These chicks are coming in hot
Principles of Agriculture class hatches chicks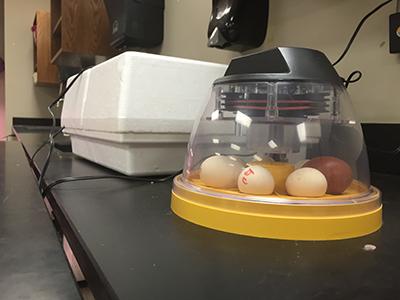 Anticipation fills room 1756. Students count down the days until the chicks hatch, until new lives arrive in the world. Every 30 minutes, the incubator at the far side of the room gives students another reminder of what they have waited for. Slowly but surely, the day arrived, and the first beak broke through the shell.
To help students gain experience with chickens and show them the development process of chickens, Principles of Agriculture students received 24 chicken eggs on March 21 from the Klein High School agriculture program.
Principles of Agriculture teacher Katelyn Wisnowski said the students seemed very excited about the project, and it opens up a great opportunity for students to learn about their food.
"The whole purpose of me getting the eggs is to show my Principles students the process of incubating eggs, chick development, and then the process of the chicks hatching," Wisnowski said. "So the main purpose is for [students] to get to see that whole process."
Students have had the opportunity to interact with the eggs when they tested the eggs for freshness through the method of candling in class; they also have the opportunity to see the development of the eggs every day in class.
"A lot of times kids don't get to see these types of things, and they're very uneducated when it comes to agriculture [and] when it comes to where their food comes from and stuff like that," Wisnowski said. "So they get to see the process of the hatching."
Principles of Agriculture spends a whole unit on poultry, and sophomore Steve Moran said they learned some valuable information about poultry because of the egg incubation project.
"[Students will] know what they're eating, what an egg is, [and] how it's produced," Moran said. "I eat eggs most of the time so I like to know what I [am] eating."
After the eggs hatch, they will go back to the teachers at Klein High School, where they will continue raising the chickens and eventually use them as egg producers or lunch.
"I'm very thankful to the ag. teachers at Klein high school for giving me the eggs because if I wouldn't have gotten them from them I would've had to purchase them," Wisnowski said. "So it's actually saving money for my class that we can use for other projects."
Students, like senior Shannon Delane, who have no plans to follow a career related to poultry have taken away skills that will benefit them in the future.
"I feel like students learn better when they actually do it," Delane said. "I think it's a great experience for them in life, because they learn how to do stuff on their own."
As of April 12, seven chicks have hatched, and  more are expected within the week. Wisnowski said her students enjoy having the chicks in class and thinks her students will hate to see them go.
"I'm pretty sure my students are going to feel sad," Wisnowski said. "I had a lot of kids already ask me if they could buy one or keep one"