PBIS store set to open Oct. 19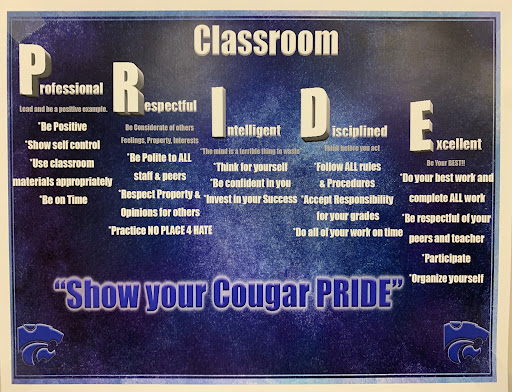 On Oct. 19 during all lunches, students with PBIS points can spend points at the school store for a variety of items ranging from shirts to time with CeCe, Creek's comfort dog.
PBIS stands for Positive Behavioral Interventions and Supports. As mentioned by Ms. Maggy Watson, the assistant principal who handles PBIS for Creek, there have been more than 7,000 points distributed across all grades since the beginning of the year.
"The PBIS system is a web-based app where you can issue points to students for showing their Cougar PRIDE," Watson said.
PRIDE is an acronym that stands for professional, respectful, intelligent, disciplined, and excellent. According to PACE teacher Ms. Chelsea Smith, examples of Cougar PRIDE include, "Kids doing what they're supposed to be doing, passing all their classes, [and] following the dress code."
The system innovates on several concepts; a major incentive of the PBIS app is its convenience.
"It's a good idea in concept," freshman Kimberly Lam said. "You don't have to waste paper to give currency to students."
On the other hand, a large portion of students are either unaware or disinterested in the program.
"I don't think any of my friends really care about the PBIS system or use it either," Lam said. "You don't hear anyone asking 'How many points do you have?'"
Ms. Watson knows this and is trying to encourage its use, with the goal being for every teacher to give out 10 points daily.
With the school store opening Oct. 19, Creek's execution of PBIS will be put to the test. For more information, visit PBIS Rewards at my.cfisd.net located in Additional Resources.
Leave a Comment