PBIS store open Tuesdays and Thursdays during all lunches
Make sure to visit during your lunch period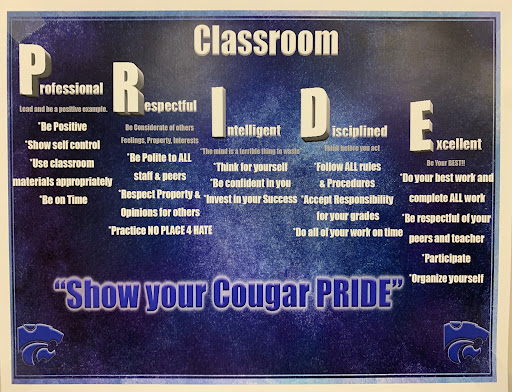 The Cypress Creek High School PBIS store is now open on Tuesdays and Thursdays during all lunches. All prizes are Cypress Creek-themed and have costs ranging from 5 points to 150 points. Cougars can check their point totals by visiting the student website.
At Creek, Cougars are expected to be Professional, Respectful, Intelligent, Disciplined, and Excellent, summed up in the acronym P.R.I.D.E. Cougars can earn points for demonstrating characteristics of P.R.I.D.E. on campus. All faculty members are able to award points how they see fit and create their own prizes in addition to the prizes available in the PBIS store.
Some of the prizes at the school-wide store include, but are not limited to, a rubber bracelet for 5 points, a t-shirt for 100 points, and a seat cushion sponsored by Telge Roofing for 25 points. A full list of prizes can be found on the student website and at the store during lunches.
To award points, faculty members must know the student's name or student ID number. Students can earn points by answering questions in class, keeping hallways clean, and being engaged in activities on campus, among other positive behaviors.
The school store is staffed by parent volunteers who are happy to answer any questions students may have about the store. Students can visit the PBIS store periodically during all lunches to check what prizes they are eligible for.
Leave a Comment