Girls soccer to face off against Cy- Fair Feb. 1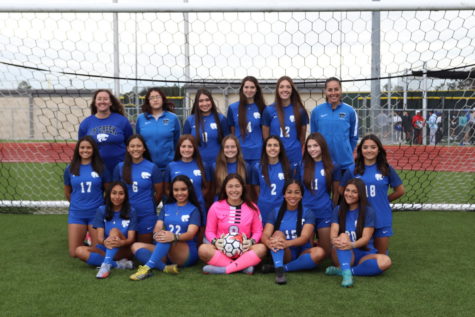 The varsity girls soccer team will visit Cy-Fair High School for a rivalry game Feb. 1 at 7:15 a.m.
To beat Cy-Fair this year would be the highlight of the season, according to head girls soccer coach Laura Throckmorton.
"We have a small but seasoned group of athletes this year," Throckmorton said. "This group is very motivated and vocal about wanting to make it to playoffs, so they work together toward that common goal and regularly share how they are doing individually."
Coach Throckmorton said that practices on game days are usually brief sessions where players focus on finishing in dangerous situations, set-pieces and refining tactics.
What sets apart the Creek soccer team is the list of athletes on the team, said Throckmorton, mentioning that Creek's athletes play with heart and guts and leave it all on the field every game.
"It is really important that they hear each other share what they are proud of each game and what they feel they could improve on so we can celebrate individual and team successes in real-time and see growth and expectations become elevated," Throckmorton said.
Leave a Comment