Future Business Leaders of America competitors take top places at state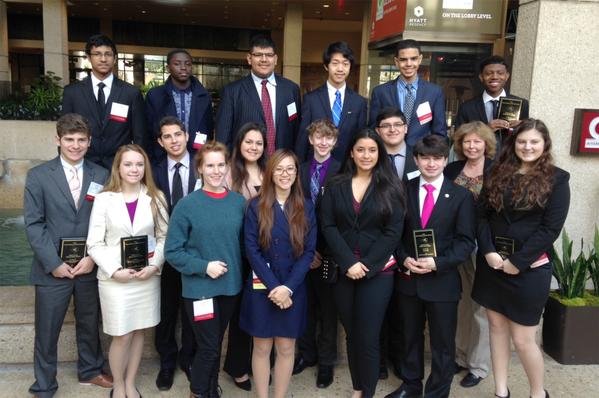 Story by: Audrey Jones, Entertainment/Opinion Manager
April 6, 2015
After the state competition in San Antonio, FBLA teams took home first, second and fifth places in their events.
Senior Jessica Klohn explains how she prepared for the competition.
"We had meetings after school and we got together and helped each other," Klohn said. "Me and Austin [Heath were] doing marketing and we talk[ed] about it and we got a marketing book and we sat down and studied. Basically a lot of studying."
In San Antonio, Klohn enjoyed the competition at FBLA State and the group took a trip to Fiesta Texas after the competition.
"It was a lot of fun. We met a lot of people from everywhere," said Klohn. "They gave us a run for our money."
1st place – Hospitality Management (team)
Alex Bridges (12)
Andrea Tranchita (12)
William Joseph (12)
1st place – Scrapbook
2nd place – Marketing (team)
Austin Heath (12)
Jessica Klohn (12)
2nd place Local Chapter Annual Business Report
5th place – Global Business (team)
Nick Bounds (12)
Tyler Daughtry (10)
Cesar Medina (12)