Cougars get CATSS
Students receive presidential recognition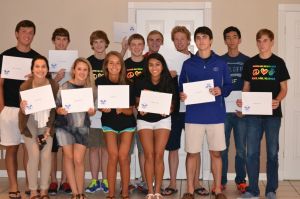 On Oct. 6, 11 students received the Bronze Level Presidents Volunteer Service Award for their hours of community service.
The Presidents Award recognizes US citizens that have completed a specified number of community service hours over a 12 month period. The 11 students  include Alanisse Bernal, Lindsey Rau, Shivani Lalloo, Nick Vandenbossche, Chase Williams, Connor Sauer, Jordan Francis, Fernando Tomayo- Jimenez, Thomas Watson, Grant Cook and Josh Prim, who finished 100-174 hours of community service. With the award the students received a congratulatory letter from President Obama and a personalized certificate.
"I feel proud of myself for completing over 100 hours because I like volunteering and helping the community and just giving back to people," junior Lindsey Rau said.
These students participate in the Champion Area Teens Service Society (CATSS), a Champions area based organization. The organization provides teenagers living in the Champions area with volunteering opportunities
"[CATSS] were the ones who gave me all the volunteer projects," sophomore Fernando Tamayo Jimenez said. "They led me and gave me opportunities to get all my hours."
Leave a Comment