A show like no other
Theater begins preparation for newest pla
More by Emma Ruggiero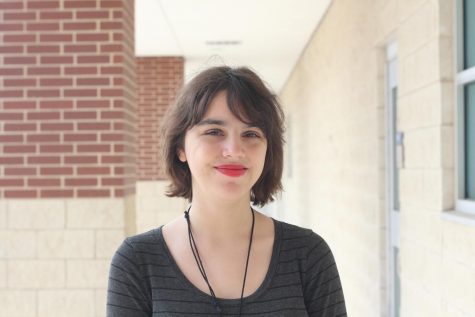 More stories from Emma Ruggiero
Laughter reverberates around the room as the actors perform miniature comedy sketches and relay jokes to their peers. This serves as their warm-up for the day; after this, the room will be filled with silly chants and the actors will take part in a few exercises. Humor thrives here – and this only marks the beginning of the laughter that will ensue.
The theater program will present "The Complete History of America (Abridged)", directed by culinary arts teacher, Asa Smith, and theater teacher, Michelle Smith. Showtimes begin on Thursday, April 20 and end on Sunday, April 23.
As the title implies, the production portrays every major turning point in American history in a comedic light.
"I feel that the play is a relevant, apropos play for today's social and political climate," Asa said.  "Mainly, I want people to understand that politics can be a laughing matter and that we are stuck in this thing together, whether we like it or not."

Asa has assisted in directing two other shows at Cy Creek, "A Midsummer Night's Dream" and "Fruitcakes." This time however, he wanted take on a bigger responsibility.
"I am less nervous and more focused," Asa said. "In my previous directing experiences, I was mainly focused on developing the actors and the way they told the story. This time around, the artistic vision is largely mine, so I feel more responsible for that portion of it."

The production, while educational, mainly serves as a humorous portrayal of real-life events. Junior Jess McHan said she feels eager to make the audience laugh.
"I want the whole room to be full of laughter," McHan said. "It's supposed to be a really funny, lighthearted show, and [I just want] to brighten people's day and make them smile."
McHan, who will portray four different characters (Betsy Ross, Spade, Hawkeye and Woman) in the production, sees acting as a good way to relax and loosen up around others.
"[Acting is] a really good outlet, because I consider myself a pretty shy person," McHan said. "But when I get to talking about the show or when I get to be on stage, it's a really fun experience, so I think I enjoy that."
Performing onstage for the first time, sophomore Michael Hurbanis will take on the roles of six different characters (among those Man, Ricky, Maddison, Herbert and even George H. W. Bush). While he feels somewhat nervous, he has already found his place alongside his fellow actors.
"I'm super excited," Hurbanis said. "Usually I'm behind the stage watching everything, and now I'm actually part of it this time."
Sophomore Kayleigh Elliott, who will stage manage for the first time, has high hopes for the upcoming show and anticipates a great performance. She believes the actors have fantastic talent and enjoys working with them to keep enthusiasm high.
"We are all very passionate about what we're doing," Elliott said. "We like to keep a positive vibe. It's a lot of good energy being brought into that theater."
The students and teachers working on the play have special plans to increase attendance. Asa advises students to not bring anything they do not want to get wet.
"The more people we have in the audience, the funnier it will be," Asa said. "I can guarantee you we have not done a show like this before at Creek, so I know people will be surprised."
Tickets cost $5 for students and $8 for adults.
Leave a Comment