Cy Creek student performs in community theatre production of "The 25th Annual Putnam County Spelling Bee"
More by Lydia Estepp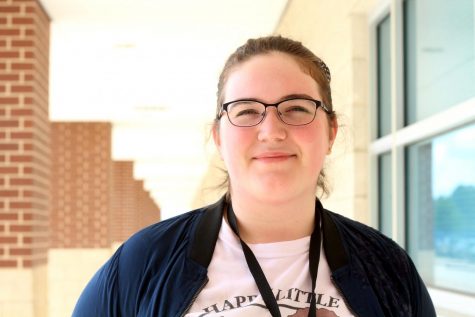 More stories from Lydia Estepp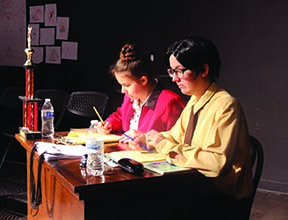 The musical "The 25th Annual Putnam County Spelling Bee" showed at Stageworks Theatre on Grant road, Friday Nov. 3 through Sunday Nov. 6. The show featured junior Victoria Carlson who played a disgruntled spelling bee announcer named Douglass Panch.
"Although it can be difficult balancing school work and theater, especially if you're involved with more than one show at a time, you just have to teach yourself how to balance your time and use your extra time wisely," Carlson said.
Carlson began doing shows at Stageworks Theatre a year ago and joined Drama Club  her freshman year to embrace more acting opportunities.
"One of my personal favorite moments in the show is the "I Love You" song with Olive and her parents because you really get to see into her life and feel the sadness that she feels," Carlson said. "It's a very real moment that draws you in and helps you realize what others might be going through."
The director of the show, Rachel Landon went to Cy Creek and began working at Stageworks this year after performing as the witch in "Into the Woods" in 2015. Landon described this show as one of the best classes she ever taught.
"We've been going at it for quite a while," Landon said. "We started with music, because this is actually a deceptively difficult show, even though there's only nine characters in it."
Landon said she enjoys the scenes the kids create themselves, such as the improvised moments and the props specifically chosen by the actors.
"There's a million different moments that I just absolutely enjoy every time I see it," Landon said. "That's the cool thing about a character driven musical like this."
Landon described the music as unique, interesting and difficult, and said she feels proud of the actors for learning it so fast.
"With the improvisational element of the show it's going to be a different experience every single time," Landon said.
The cast had to rehearse three times a week from the beginning of September to the end of October, and Carlson said she enjoyed spending so much time and getting closer with the other cast members.
"We've become like family and there is never a dull moment when they're around," Carlson said. "They are all so talented, and I couldn't have asked for better people to work with."
Leave a Comment