Can't take the heat
More by Kai Fortner Newby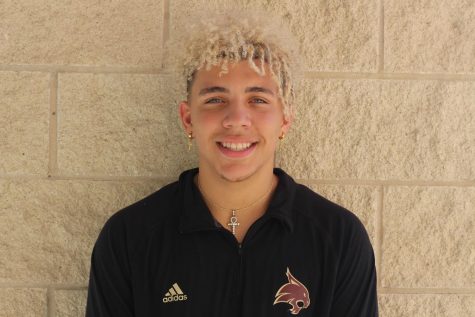 More stories from Kai Fortner Newby
The sun beamed down on the player's skin causing a glossy shimmer visible from across the field in the scorching hot weather. Lack of hydration could not only slow them down physically, but mentally as well. Hunched over, each player trudges through the course of practice as the heat index flies through the roof.  Despite the unbearable heat, players must still perform to the best of their ability.
"Our expectations as far as performance never changes, especially due to weather," Defensive Coach Mike Daniels said. "We expect to win no matter the circumstances."
During the summers in Houston the heat index can create a real problem, reaching temperatures of 100 or more. However, this does not stop various sports – including football, cross country and soccer – from practicing. The summer heat provides unbearable, and in some cases, dangerous situations.
According to Daniels, some days have been almost too hot to practice.
Athletic trainers, Grant Newman and Mahlia Revetta, offer tips on dealing with the heat, and offer preparation methods to ensure student safety. The trainers attend every practice to overview
"The best way to deal with the heat is to prepare for it – pay attention to the weather forecast, eat right throughout the day, nothing super heavy," Newman said.  
The body responds to heat in various ways, and in some cases a fatal aftermath. Researchers reviewed data from the National Center for Catastrophic Sports Injury Research and found 243 football-related deaths recorded between July 1990 and June 2010; 38 were heat-related.
"Listen to your body; if you feel you're starting to get dizzy or overheated stop what you're doing," Newman said.
Starting center for the Junior Varsity football team, Jaylon Merchant said while heat remains an issue, lack of water and time can also become a major setback for players.
"You become more irritated with the heat, because you're still expected to go full speed but sometimes you can't get as much water as you need," Merchant said. "[But] the worst part about it is the length of the practices."
Texas heat provides a serious problem during the summer, but coaches and trainers all around are doing everything they can to help provide a safe environment for athletes.
"Our trainers do an awesome job at monitoring the weather," coach Daniels said.
View Comments (1)