Wrestlers advance from regional tournament
Junior Mariah Mack fought to free her right leg from her opponent from Clear Falls High School, spun to get behind her and scored two points, winning the championship in the 110-pound weight class.
"The turning point of my match was when I got called for stalling," Mack said. "After that I knew I had to step up my game."
Mack, along with junior Joe McAleavey and seniors Isaac Johnson and Gabby Long, competed in the regional wrestling tournament at Clear Falls High school on Friday and Saturday to earn spots at the state level.
"It's an honor to be here at regionals," Mack said. "It's such a great experience."
After the two-day regional wrestling tournament, Mack and Johnson won first place for their weight classes while Long and McAleavey lost their final matches but finished in second place.
"I think they all did a good job and those who lost are going to win at state," freshman wrestler Tommy Martin said.
Other wrestlers who qualified for the regional tournament include senior Deanna Narveson, juniors Shawn Andrew and Todd Debato, sophomores Thea Feeney, Kenny McAleavey and Jordyn Rodgers and freshmen Micaela Chan and Kaytie Lee.
Johnson, who won first place in the 220-pound weight class, is in his third year on the team.
"It's really exciting, I've never been to state," Johnson said. "This year I'm district champion and regional champion."
All four wrestlers will compete in the state tournament in Austin on Thursday, Feb. 21 through Saturday, Feb. 23.
"I'm proud of them, they gave their best," wrestling coach Robert Buley said. "They gave so much out there."
The teammates not wrestling supported their fellow team members by cheering for them during the matches.
"We continue to fight even when we are losing, we continue to fight and we fight till the end," sophomore Kenny McAleavey said.
Mack's match was the last of the four wrestlers in the finals on the second day.
"After my match I was thinking 'I'm first, I won, my first year I won. It's amazing," she said. "Without my team, coaches and Gabby, my mentor, I wouldn't have gotten this far and I thank them for that."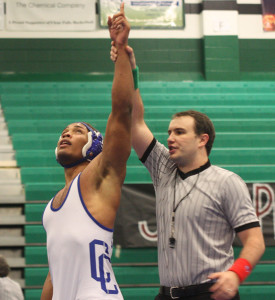 Leave a Comment