Story by: Hala Khan, Print Editor

April 16, 2015
Papers sprawled around her desk, pens and markers lay uncapped within the mess, a dozen different tabs open on her computer, the clock strikes 9 P.M. but she continues working, trying to finish the yearbook. Senior and Editor-in-Chief (EIC) of the Cougar Pride yearbook Skylar Campbell shares stories...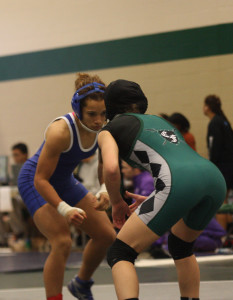 Story by: Skylar Campbell, Co Editor in Chief (Yearbook)

February 13, 2013
Junior Mariah Mack fought to free her right leg from her opponent from Clear Falls High School, spun to get behind her and scored two points, winning the championship in the 110-pound weight class. "The turning point of my match was when I got called for stalling," Mack said. "After that I knew I ...