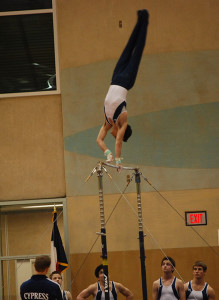 Story by: Jessica Bott, Reporter

October 21, 2013
Junior Levi Anderson trains every day with one goal in mind; becoming a member of the United States Olympic gymnastics team. Training as a gymnast for about 13 years, Anderson went to Nationals three times and earned his rank as 21 in the nation. He's determined to meet his mark by becoming the to...
Story by: Jessica Bott, Reporter

September 27, 2013
Cheerleaders will host the second annual lighting of the CC's, Tuesday, Oct. 1, at Pridgeon Stadium, and the ceremony will begin at 7:30 P.M., and is free to the community. Varsity cheer coach and government teacher Nicole Cuellar said not only is lighting of the CC's awesome, but is a chance fo...