'The Crucible' takes a toll on actors
When students auditioned for "The Crucible," they didn't realize they would become so involved they would reflect the pain of their characters.
"When we started the play I kind of just thought it was just another play that we read junior year, and I didn't think much of it," said senior Ben Granger, who played the lead role of John Proctor.
"The Crucible," based on the Salem Witch Trials of the 1690s, depicts the accusations of witchcraft made by Abigail Williams and other young girls in Salem, Massachusetts. To save his accused wife, Proctor struggles to convince the court the girls are lying.
Granger said the role was one of the most challenging he has had.
"There were nights, most nights, actually, where, after scene three, every ounce of oxygen I had had been used up and I was close to fainting as I walked off stage," he said. "I would just kind of fall onto the ground and someone would have to bring me my water and help me up."
Production team members and actors only had four weeks to perfect their parts and get the show ready for opening night, Nov. 7, and four other performances.
"I basically dedicated every second of this past month to this play," said senior Hayley Morlock, who played Mary Warren, one of the young girls. "Whenever you're acting, you can't pretend to do it. You actually have to do it to get the message across clearly."
Morlock said she had never experienced some of the physical challenges in any play that she faced during the performance.
"After the third act on the third or fourth night after screaming so much, I would run off on stage and my throat was really dry," Morlock said. "I threw up and that's never happened to me before."
During Act II, Proctor approached Williams, played by junior Anna Barnes, alone in a forest to persuade her to stop the accusations. He ended up throwing her to the ground in frustration.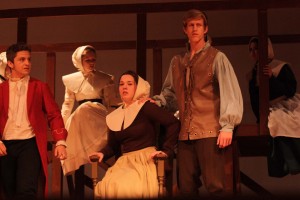 "I have bruises everywhere," Barnes said. "I got bruises because John Proctor pushed me down all the time."
Besides physical difficulties, emotional obstacles also impacted the actors. Morlock said getting into character was crucial to the play.
"You start feeling that way in real life and it helps you connect to your character more and you're better on stage with it because it comes more naturally," she said.
However, roles such as John and Elizabeth Proctor challenged actors to portray the relationship struggles they went through.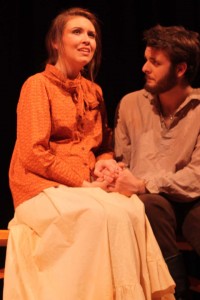 "One of the big things I had to deal with was the depression," Granger said. "I just genuinely didn't feel good and was not happy."
Senior Andi Dinehart, who played Elizabeth Proctor, said it was difficult to get into character because of the mental state she had to put herself in.
"Emotionally it was hard for me because of her relationship with her husband and how she had been wronged by him," she said. "She loved him and… in the very end he made himself a good man and she lost him."
Despite the physical and emotional tolls, Barnes said she thinks she's now able to show the audience what she's capable of doing.
"I'm more comfortable on stage than I have ever been," she said. "Usually I get really nervous about going on stage, but now I'm excited."
Granger said even though the play was a draining experience, "The Crucible" made him a better actor.
"I poured my heart and soul into this," he said. "And knowing that makes me feel really good."
Leave a Comment