Straw-Berry Good Cupcakes
A fun recipe to make with friends!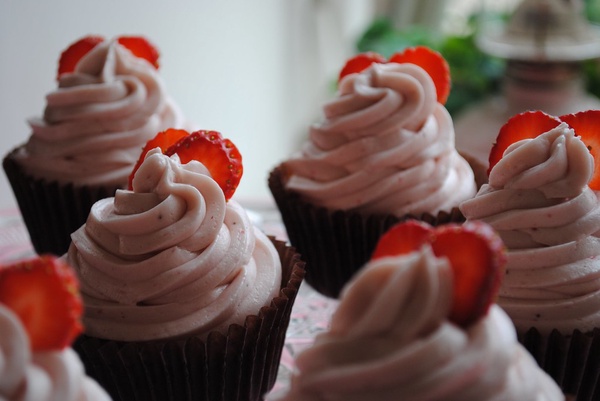 With the joy of friendship comes the need for an activity.This cupcake recipe, weather spent with your best friend, or just with your dog, will put you in a state of bliss, and sugar overdose. Let's get started.
Starting off, appliances are necessary to make these delicious cupcakes.
You will need:
A Whisk

3 Medium Sized Bowls

Cupcake Liners

Cupcake Tin

Spatula

Measuring Cups
For these cupcakes, ingredients will also be important.
You will need:
–1 1/4 ounces freeze-dried strawberries
-3/4 cup all-purpose flour
-3/4 cup cake flour
-1 1/2 teaspoons baking powder
-1/4 teaspoon baking soda
-1/2 teaspoon salt
-1/2 cup unsalted butter, room temperature
-1 1/3 cups white sugar
-3 eggs
-1 teaspoon vanilla extract
-2/3 cup whole milk, room temperature
Now for the fun part! Time to make the cupcakes.
First off, present your oven to 350 degrees so that it can warm up while the cupcake mix is being made.
Next, in one of the medium sized bowls, grind the freeze dried strawberries into a fine powder. In the same bowl, add the all-purpose flour, cake flour, baking powder, baking soda, and salt. Make sure to mix in between adding each ingredient.
In the other medium bowl, beat the butter and sugar (using any method) until noticeably fluffy. Add each egg one at a time, allowing each egg to blend into butter mixture before adding the next. After the eggs are completely mixed in, add the vanilla extract.
Finally, stir in the flour mixture, alternately with the milk, into butter mixture until the batter is as smooth as the top of a bald person's head. Make sure to only add a little bit of the flour mixture and milk at a time.
Now, line your cupcake tin with approximately 20 cupcake liners. Place the batter in each liner making sure to only fill them up about 3/4 of the way. 
Place the cupcake tin in the preheated oven and cook the cupcakes for 16-18 minutes. To determine if the cakes are done, place a toothpick down the center of one and if it comes out clean you're good to go.
Now, a good cupcake would not be complete without a frosting to go with. The ingredients for this delectable vanilla frosting include:
–1 cup unsalted butter (2 sticks),, softened
-4 1/2  cups powdered sugar
-1 Tablespoon pure vanilla extract
-4-5 Tablespoons heavy cream or whole milk
In the third and final medium sized bowl beat the softened butter to a soft and creamy consistency. While still mixing, gradually add the powdered sugar into the butter. After all of the ugar is fully mixed in, add the vanilla extract. Next, beat in each tablespoon of milk at a time until your desirable consistency is reached.
Now, to end this exciting journey of deliciousness, you need a garnish for the top of the cupcakes. The garnish adds some "umph" to the cake. Here's how to make them.
Time to assemble! Using your desired method, pipe the vanilla frosting on each of the cupcakes. 
Sadly, our time here is done. Please enjoy these cupcakes safely and responsibly. I will not be held accountable for any sugar overdoses that may occur in the consumption of these treats. See you next time! Happy cupcake making!
Leave a Comment