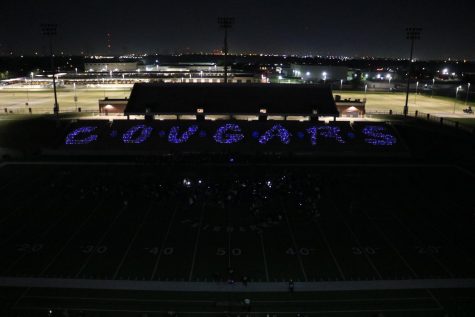 Story by: Sienna Wight, Editor-in-Chief

November 8, 2019
The warm lights of the stadium crank down to darkness, the only source of light coming from the words sprawled across the bleachers. "Cougars" illuminates the field and students erupt in applause and cheers.  Each November Creek holds a spirit event at Pridgeon stadium. Students from...
Story by: Jessica Bott, Reporter

September 27, 2013
Cheerleaders will host the second annual lighting of the CC's, Tuesday, Oct. 1, at Pridgeon Stadium, and the ceremony will begin at 7:30 P.M., and is free to the community. Varsity cheer coach and government teacher Nicole Cuellar said not only is lighting of the CC's awesome, but is a chance fo...