One team; one dream – making history
Hang on for a minute...we're trying to find some more stories you might like.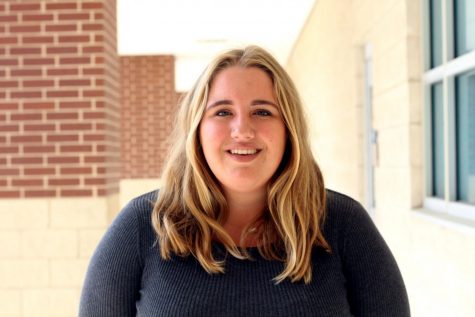 More stories from Chloe Crawford
Lady Cougar Basketball qualifies for UIL State Basketball Tournament
The referees blow the whistle for the first time to start the game against the Lamar High School Texans and the tip off begins. The Lady Cougars play a fantastic game and beat the Texans 77-42. This is playoff basketball and it is incredible to watch. Senior Jaylon Johnson attributes the team's success to their camaraderie.
"I think our chemistry on court and off court is what sets us apart from everybody else. We just work good together," Johnson said. "Even in tough times, we still work together."
The following playoff game, against the Fort Bend Travis Lady Tigers, the Lady Cougars crushed the competition in another blowout game with a final score 77-42. This jettisoned the Lady Cougars into the area title. Freshman Taylor Jackson knows that hard work in practice and the countless hours spent in the gym make a difference.
"We put hard work and dedication in every practice," Jackson said. "Even when we're down in games, we still try our hardest and cheer each other on even when we mess up."
In the following game, the Lady Cougars bested the Langham Creek Lady Lobos in overtime during the regional quarterfinals. The nail-biting game flew into overtime and had the entire crowd chanting for their respective team. Some team members say that the best part of the season was not just all the winning but the relationships forged as well.
"The best part that has happened during the season is that I got to know all these different individuals and all their different personalities right before they graduate," Johnson said. "They're all so unique and different, and it's very fun to talk to them differently."
The next week, the Lady Cougars threw down with the Atascocita Lady Eagles in the regional semi final game. The following game, the Lady Cougars went against Summer Creek beating them 57-36. This earned them the regional title and a spot in the state tournament. Senior Sydney Groves attributes some of the team's success to the following the team has gained.
"I think our biggest support is from our fans because they follow us to every game," Groves said. "They always come, they're always loud and they're always there for us."
For the first time in school history, the Lady Cougar basketball team made it to the University Interscholastic League (UIL) state playoff tournament. The tournament took place in San Antonio, Texas at the Alamodome beginning on Thursday March 1 and ended on Saturday March 3. Senior Tanea Sims has played for the Lady Cougars since her freshman year and felt excited for the tournament.
"It was nice," Sims said.  "We know we made history after the regional finals. It was a great experience coach just kept saying no matter what happens just have fun because not a lot of people get to do what we do."
These girls have worked hard and according to their coach, Jennifer Alexander, it was the perfect storm for a great season.
"I'm extremely proud," Alexander said. "You know as a coach you always hope and every year that's the end goal obviously, but for this group to come together the way that they did with the young kids and the seniors and kind of have that mindset from the get go that they wanted to win."
Senior Kristine Ezimako, also a four-year veteran team member, had a feeling this season would be one to remember.
"It was amazing," Ezimako said. "I've been telling my mom and really all my teammates like I knew that we were going to do it and I was right… but being able to do it with that team especially that really made it special because we're all just so close we aren't even really teammates like we're more family if anything, so yeah it was pretty cool."
Watching these girls play is a treat in its own right. Senior cheerleader Kylee Galloway went to several of the Lady Cougars games. She specifically recalls the state semifinal game against Plano.
"The environment on the court during the game was very intense," Galloway said. "The game kept you on your toes and made you not want to look away."
The Lady Cougars post season ended in a gut-wrenching loss of only eleven points to the now state champions Plano Lady Wildcats, but the players can always recall the legacy they leave behind.
"It makes me feel important," Sims said. "Like when I'm an alumni and when I come back like I'm going to be proud. I put my school out there – put them on the map so that other people that play different sports or academically, they get shine and get people coming out looking at them. It got more attention for Creek, so it made me feel good."
Update:
Some players received TABC honors.
Rori Harmon and Kyndall Hunter – TABC All- Region Honors
Rori Harmon received TABC All-State honors.
In regards to all district honors, the following players received awards:
Kyndall Hunter- Newcomer of the Year
Rori Harmon & Tanea Sims-1st team all-district
Kristine Ezimako & Taylor Jackson- 2nd team all-district
Jamia Griffin & Jalyn Johnson- Honorable Mention all-district
Miscellaneous Awards Include:
 Kristine Ezimako and Tanea Sims qualified for the Houston Area all star game and will play at Katy Taylor on Saturday.