Firin' O'Brien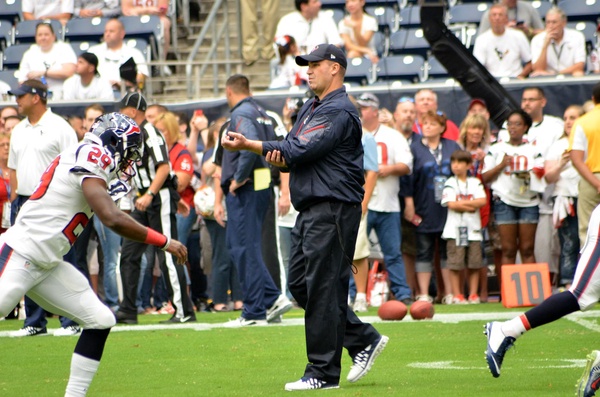 The Houston Texans fired coach and general manager Bill O'Brien on Monday, after more than six seasons with the organization and four AFC South division titles. Former defensive coordinator Romeo Crennel will take over as interim head coach. The 73-year-old Crennel has previously served as head coach in Cleveland and Kansas City. 
If O'Brien had to fill out a T-chart of himself and his coaching career, both sides would fill very quickly. The former Patriots offensive coordinator consistently kept the team competitive, helped draft Deshaun Watson, and revived the Texans franchise to its best performance levels. However, the list of negatives far outweighs the positives. 
A supposed offensive guru, he never produced a top-10 offense in Houston. He often lacked creativity despite possessing a slew of offensive talent with which to work. He routinely mismanaged the clock, he frequently held his talented offense back with his often comically conservative play calls, and he failed on eight of his last nine coach's challenges. O'Brien often got too conservative when he should coach aggressively and too aggressive when he should coach conservative. He put Watson in harm's way far too frequently (only protecting him by starting Tom Savage over him in 2017), and he never consistently utilized analytics or even common sense when it came to timeouts. When his team blew a 24 point lead to the Kansas City Chiefs in his last playoff game as the Texans head coach, O'Brien, who at the time held a 21-0 lead in the second quarter, infamously shied away from going for it by kicking a field goal on a 4th-and-1 from the Kansas City 13-yard line — then later fake punted on 4th-and-4 from Houston's own 31 yard line.
O'Brien went all-in on this team and this 2020 season. He acted as the de facto general manager when the Texans traded a third-round pick for Duke Johnson, received a mere third-round pick for Clowney, and dealt away a third-rounder for Gareon Conley in 2019. He also oversaw Houston giving up two first-round picks and a second-rounder in exchange for Tunsil and Kenny Stills last September. And, officially, he held the general manager title when they surrendered a second-round pick for Brandin Cooks, and in March, he embarrassed himself in that role by trading Hopkins for running back David Johnson. Later, he decided to make Tunsil the highest-paid offensive lineman in NFL history, and hand out lucrative deals to Whitney Mercilus, Nick Martin, Zach Cunningham, Bradley Roby and Randall Cobb. 
All of these things should have acted as clear indicators to move on to a new coach. O'Brien lacks foresight and possesses poor decision-making skills when it comes to utilizing, managing, and acquiring personnel. O'Brien continually mismanaged the Texans, both on and off the field. And as a result, the franchise finds itself in one of the deepest holes in professional football. 
View Comments (1)