The 411 on President-Elect Joe Biden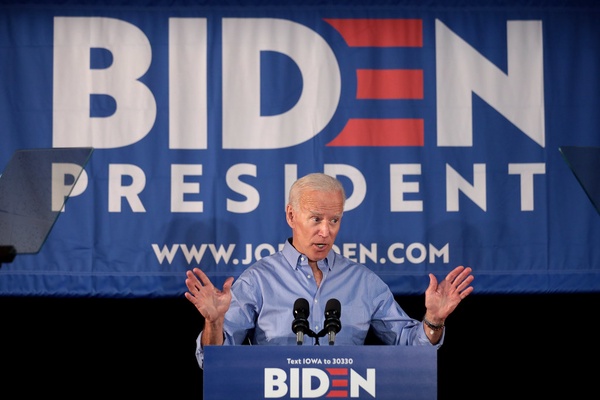 After months of campaigning, rallies, debates, and an intense election night, the Associated Press called the presidential race and announced former VP Joe Biden and U.S. senator Kamala Harris as president-elect and vice president-elect of the United States. Biden and Harris won the election by 73 electoral votes, with Biden's campaign having 290 electoral votes and Trump's taking 232. Down below is some background information on our future leaders.
Biden is an American politician and the president-elect of the United States. In 1972, he got elected as a senator for Delaware and served for six terms. While he worked as senator, many people regarded and respected Biden as one of the body's leading foreign policy experts. During the years of 2009-2017, Biden served as the 47th Vice President of the United States under former President Barack Obama.
Harris's political career started in 2003, when she became the District Attorney for San Francisco. During her two terms in office, Harris defended a landmark climate change law in California, protected the Affordable Care Act, ensured marriage equality, and prosecuted gangs involved in crimes such as human, drug, and weapon trafficking. Harris got sworn in as the United States Senator for California in 2017, making her the second African-American and first South Asian-American senator in history.
So what are Biden's policies and political views? Below are a few of the Biden-Harris plans for certain political topics along with overall information on what is planned for the future of the country.
Economy
Biden's plan for the economy includes bringing back 11 million jobs and $670 billion in gross domestic product that has gotten wiped out due to the pandemic.
Biden's recovery plan will include another federal bonus to weekly unemployment benefits, aid for struggling businesses and states in financial distress, and another round of stimulus checks.
Biden believes we should raise taxes on the upper class (anyone making over $400,000 yearly) and corporations in order to fund the large-scale proposals he has put forward. He also believes it should be a requirement that politicians release their own tax returns to the public, for the purpose of transparency.
Education
Biden's campaign has big plans for education that will greatly benefit educators and students. His plans include investing hundreds of millions of dollars in new education spending for all grades, along with increasing funding for special education, mentoring for teachers, leadership, and professional development. Biden will provide tuition-free community college, secure access to affordable child care, and universal preschool. He will also increase the number of social workers, psychologists, counselors, and nurses in school.
For colleges and universities, Biden will make attending public schools tuition-free for families with incomes under $125,000. He will also make attending community college tuition-free with free high quality training programs. Biden plans to cancel up to $10,000 in student debt. He will invest $50 billion in workforce training through community college partnerships.
Environment
To combat climate change, Biden plans to push the United States towards net-zero carbon emissions by 2050. He has a goal to get rid of the power sector of carbon emissions by 2035. Over four years, Biden will invest $2 trillion in green areas including infrastructure, transportation, auto industries, housing and construction practice. He will create 1 million new jobs in the auto industry, which will increase the use of electric vehicles.
Health Care
For health care, Biden supports the continuation of the Affordable Care Act (ACA)– Obama's health care law that makes health insurance affordable for more people– and will defend ACA from legal and congressional challenges. Along with that, he will continue to develop the ACA law further.
Biden will expand premium subsidies on the Affordable Care Act exchanges to encompass people making more than 400% of the federal property level. He will restore funding for ACA exchange consumer outreach.
For the Coronavirus pandemic, Biden will put the federal government in charge of the COVID-19 response and use the Defense Production Act to increase the production of masks, face shields, and other protective equipment. He will provide free testing regardless of insurance. Biden will expand the use of drive-by testing and advocate for the creation of at-home and instant testing. Biden will invest $25 billion into a vaccine manufacturing and distributing plan.
For health care and drug costs, Biden supports a ban on surprise medical care bills without details. He will also use the new public option program to negotiate terms with hospitals and other providers. Biden will allow the importation of prescription drugs with safeguards.
Biden will establish a permanent COVID-19 Racial and Ethnic Disparities Task Force.
For mental health, Biden will create awareness of the veteran and LGBTQ+ youth suicide problem, and promote sucide prevention for all. He will also look to expand the mental health workforce.
Immigration
Within the first 100 days of his term, Biden says that he will reverse Trump's policies that separates parents from their children at the border. This includes ending the prosecution of parents for minor immigration violations and making the reunification of children who still separated from their families a priority.
He will also end Trump's asylum policies that have restricted access to sanctuary in the United States. Trump's policies have imposed additional restrictions on anyone traveling through Mexico or Guatemala, attempted to prevent victims of gang and domestic violence from receiving asylum, and limits the ability of LGBTQ+ members from qualifying for asylum as members of a particular social group.
Biden will increase the use of humanitarian resources such as faith-based shelters and refugee assistance agencies at the border, along with U.S. government resources to support migrants waiting for asylum and the organizations providing for their needs.
The Trump Administration has terminated the Deferred Action for Childhood Arrival (DACA) program, but Biden will reinstate DACA. He will guarantee that Dreamers, undocumented immigrants who migrated to the United States as children, are both eligible for federal student aid and included in his plans to provide debt free community college. He will invest in HBCUs and Hispanic/Minority Serving Institutions, encouraging and helping Dreamers contribute to the economy.
Biden will serve as the 46th President of the United States and will be inaugurated on January 20, 2021. The Biden-Harris administration will begin a new era of leadership hopefully bringing prosperity for the country.
Leave a Comment