Reopening CFISD Amongst COVID-19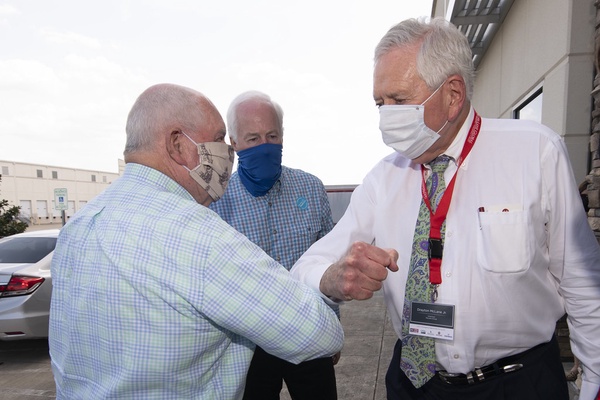 The reopening of schools across the country has faced scepticism by many, due to this past year's events, and the closing of almost all campuses big and small last spring. The inevitable growth of COVID-19 put an end to students and faculty member's anticipation of a normal return to campus. Despite positive cases rising, on September 8, 2020, CFISD doors re-opened both in-person and online, and a new school year began. 
Even though Texas campuses have reopened, new safety rules have been enforced to keep students safe and healthy. Hallways and classrooms are at near half capacity, and include restrictive boundaries to maximise social distancing. 
Masks cover student faces, and desks are surrounded with protective shields along with spaced out lunch tables create less interaction between students and give everyone at Creek an extra level of protection. In addition, the use of paper is now being reduced in classrooms and school supplies have become limited to the use of one person only. 
Before the school year started, students were given the option of taking their courses online at home. On the first day of school, most students were surprised when they saw the nearly empty parking lot and hallways due to more than half of Creek's students choosing to learn online. 
After first being announced, online learning raised many concerns from parents and teachers. Despite the speculations of excessive cheating and technological complications, daily classroom Zoom calls have proven to be successful. This means through online learning, students can effectively learn in the safety of their own home, in real time, along with students attending on campus. 
Throughout the rest of the school year, COVID-19 will continue to impact the education of students at Cy Creek, but students and teachers will adapt to their new ways of school life, along with brand new sets of rules and educational format meanwhile staying safe throughout the school year. No matter how difficult, Cy Creek will get through this unique and painstaking year, meanwhile trying to find normality, amidst this abnormal time. 
Leave a Comment