Senior golfer takes tournament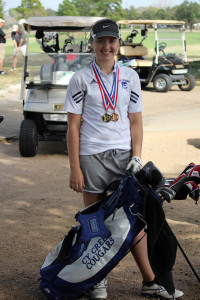 Senior and varsity golf member Emily Moore won first place at the Cy Falls Invitational tournament at Hearthstone Country Club on Monday Jan. 28.
The varsity golf team took home 3rd place out of 11 teams competing. Moore said winning first place came as a surprise because she knew girls that can shoot better than her. Moore scored 86 points, tying with sophomore Karlee Little from Cy Falls, and had to do a playoff.
"We were both really nervous. We both could've easily par that hole. We both got bogey and tied," Moore said. "Then after I hit my second shot I was walking out of the green literally chanting I'm going to throw up. I didn't even realize I won until [varsity head coach Tami] Combs was like thank God. The first thing she said was 'Name on the announcements tomorrow."
Leave a Comment