"We need to know that there's still good": CFISD program supports families in transition
It's dusk by the time junior Mikel Robinson gets home after school, sometimes arriving past six p.m. on days with ROTC activities. Robinson has to be an early-riser as well, waking up at five a.m. to catch his bus.
Long hours at school, long hours on the road — the journey to and from school looks different for Robinson and students like him.
Robinson is one of many students who are part of the Student Services Families in Transition (FIT) program in CFISD. The FIT program is conducted under the national McKinney-Vento Homeless Education Assistance Act and is intended to support qualifying students and their families. From federal funds, district-level officials, and local counselors and specialists, it takes the time and resources of many people to ensure students access a complete education, no matter their circumstances.
"A normal school day in the building is actually just like any other day," Robinson said. "I just come in and do my classes."
Of course, a normal school day for Robinson – who has to wake up at five in the morning to catch a bus at six and be at school at seven – may not be the same as other students.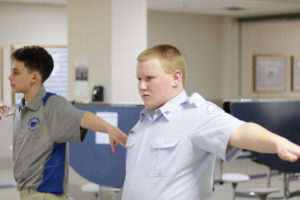 "I was first introduced to the program about three months ago," Robinson said. "This is my first year with this program. Mrs. Velez recommended this program for me because in the middle of the school year, we got removed from our house due to the landlord wanting to sell."
Cy Creek counselor Michelle Evans works directly with FIT students such as Robinson. Evans' responsibility lies in the needs of FIT students and their families.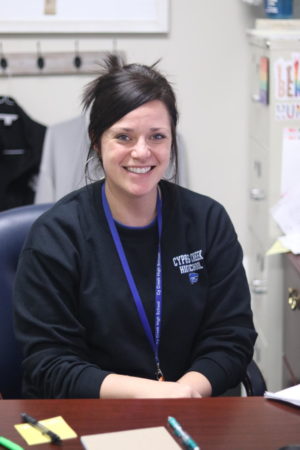 "My role is to support them in any way that they need," Evans said. "My role is if their family is struggling to provide for themselves, if they need supplies or anything like that, they come to me and then I provide services for them that way."
Evans said the program can provide students with transportation and other basic needs. While there are several ways Evans assists students, the root of the program is providing stability.
"The program was designed to keep [students] at their school of origin so that way they are not having to uproot themselves from every aspect of their life," Evans said.
In order to qualify for the program, students and families must first complete and submit a Student Residency Questionnaire.
"[The questionnaire] is asking them where they previously lived, where they are currently living, whether they have gas, water, electricity, whether it's a place that they own," Evans said. "If they say 'Yes' to both of those questions, they won't qualify for the program."
On the second page of the Student Residency Questionnaire, applicants are able to explicitly describe the circumstances leading to their current situation, which allows for some flexibility within the process.
"Within the program, once the family is approved, then we can provide them with school supplies, we can provide them with backpacks, as many as they need, we provide them with P.E. uniforms as needed," Evans said.
Continued transportation is another service that is provided through the program. Even students who currently live outside of CFISD attendance zones can be transported to and from their CFISD school.
"Let's say it's a student in HISD," Evans said. "HISD will provide morning transportation, and they, on their end, will plan all of that out and then get it back to me, and I communicate that with the family."
There are some rules to ensure consistent transportation.
"[CFISD] will also plan afternoon transportation," Evans said. "If a student needs to stay after school for whatever reason, it has to be a consistent stay after-school. Like, it has to be every Tuesday, it can't be just whenever [the student] wants to."
A consistent after-school schedule is even more important amid current staff shortages.
"Because we have such a shortage of bus drivers, they are so stacked in their schedule," Evans said. "They pick up at high school, and then they go to middle school, and they go to elementary, and then, they go and finish the route for [FIT] students."
There are several other people and departments supporting FIT students and families. Betty McGinnis, who has worked part-time with CFISD's Student Services Department since her retirement in 2014, supports FIT students at Cy Creek and its feeder schools. McGinnis works directly with Evans.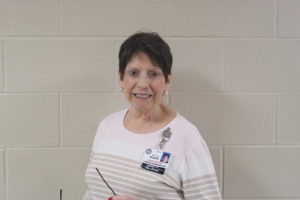 "The whole premise of our program is that we want to help these full-time counselors relieve some of that pressure because these kids need extra help," McGinnis said. "So I only have, let's say, 80 students compared to the 450 or 500 that Ms. Evans has. I have more chances to spend time with them."
Through time spent with the FIT students, McGinnis gains an understanding of their living situations and home lives.
"Some of the [FIT students] are fine," McGinnis said. "They're living with their grandparent, everything is stable. They've got a place to live, to sleep, to eat, get clothes, that's fine. But we have those students who really need help. And this gives us a chance to find out who they are and how can we best help them and their family."
There are several situations which can lead to a student qualifying for assistance under the FIT program.
"Maybe someone has died, maybe the house has burnt or flooded," McGinnis said. "They can't live where they used to live, so we feel like they are a family in transition, temporarily staying somewhere else."
The reality of hardship is all too true and unavoidable.
"We really don't know what some of these students have to go through," McGinnis said. "We had a student a few years ago that lived under the park benches in Bear Creek. He would come to school everyday, and he would get up, dust the leaves off his clothes, and come to school. One of the coaches would let him take a shower, and they did laundry for him."
Students who may qualify for the FIT program may not always be open to applying or comfortable with people knowing their circumstances.
"This is something that people don't advertise because they are somewhat ashamed or embarrassed or whatever, but there are plenty out there who do need our help and the extra help we can offer," McGinnis said.
The FIT program is funded by a federal grant, whose application has to be submitted by CFISD's Student Services Department for renewal every three years. It is CFISD's distribution of funds that truly makes the FIT program what it is.
"The funds would pay for backpacks and all the supplies," said McGinnis. "It pays for caps and gowns for the seniors, it pays for all the food, breakfast and lunch. It is a wonderful program."
McGinnis said one major goal for the program is ensuring no FIT students dropout of high school.
"We monitor grades and attendance," McGinnis said. "We have reports that we fill out every nine weeks. Any student who has been absent 'x' number of days — we have resources. We hired two people to do nothing but to make home visits for these students who are not coming to school. One of the goals we have [is for] everybody to get back to school."
In addition to providing stable transportation and academic monitoring, FIT students are championed by Karisman Taylor, a Harris County Community Youth Services worker supporting Cy Creek.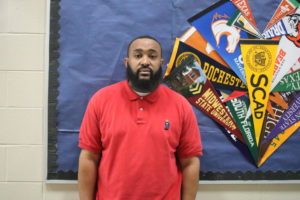 Taylor said his day-to-day activities revolve around students' needs, and McGinnis recalls times when Taylor has driven a student's mother to a doctor's appointment or delivered a family food supplies from the food pantry.
"Maybe the family has lost everything in a fire," McGinnis said. "They need food. They need clothes. They need everything. Well, I don't always have those things I can get, but I have the resources, the contacts, to say, 'We can get help for you from this resource,' and primarily that's our social worker, Mr. Taylor."
With the holidays just wrapping up, Taylor describes the many resources that come together to get these families through the holiday season through collaboration with other CFISD schools and Cy Creek staff.
"Making sure that families have food during Thanksgiving, making sure that families who celebrate the holidays have assistance with gifts and different things like that during the December holiday, making sure that when the weather changes, students that may not have the financial capability of buying coats and jackets that they have [coats and jackets]," Taylor said.
Resources like the Andre Elementary Clothes Closet and the BEARing Gifts Toy Drive allow for Taylor and others within the FIT system to support students and their families.
"There is no limit to what this man does to help these families," McGinnis said. "We need to know that there's still good. There are people who really do want to help."
View Comments (3)