Playing at the Table: Theatre and Art Department Collaborate on Fall Production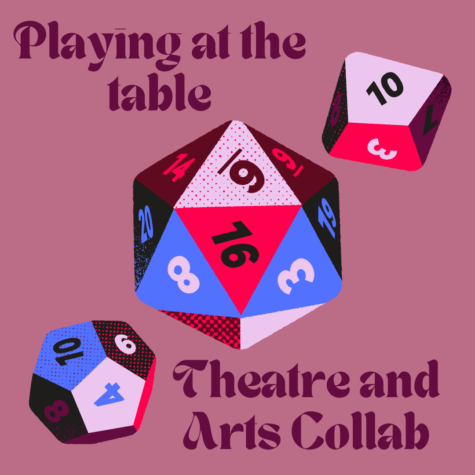 The last sentence of the preface of the Dungeons and Dragons (D&D) players handbook reads, "Go forth now. Read the rules of the game and the story of its worlds, but always remember that you are the one who brings them to life. They are nothing without the spark of life that you give them."
In collaboration with the theatre department, the visual arts department has taken on a project in which upper-level students are tasked with designing and creating an art piece of an original D&D-themed monster of students' choosing.
Surprising to some, unsurprising to others, there is quite a bit of overlap between art students and theatre students, all of whom are very excited about this collaboration and potentially more moving forward.
Erica Chaikin, one of two digital art teachers on campus, said "It seems like a lot right now, between digital and art history. I think creative people are drawn into the arts."
Jimena Watson, a sophomore crew lead and Ceramics II student said, "I am scenic lead (…) I find it very cool how art and theater are coming together and it allows students to be more involved with things and get in contact with people who have similar interests and creative things."
Cecilia Killilea, a senior actor, is currently taking digital art and advanced photography.
"I am a part of the cast I got the role of Lilith," Killilea said. "It isn't affecting my work, but it's actually making me more excited for the show."
The project itself is themed after the fall theatre production of "She Kills Monsters: Young Adventurers Edition" by Qui Nguyen. "She Kills Monsters" is a play set in 1990's Athens, Ohio about a girl named Agnes playing D&D as a way to better understand her late younger sister named Tilly who used to play the game with her friends.
"A comedic romp into the world of fantasy role-playing games, She Kills Monsters is a high-octane dramatic comedy laden with homicidal fairies, nasty ogres, and 90s pop culture – a heart-pounding homage to the geek and warrior within us all," reads the blurb given by the publisher, Concord Theatricals.
The play will run from Oct. 20-22, with two shows on the last day. The finished products of the art project will be displayed outside the theatre during the show's run.
In general, both the theatre and the art departments have added to and changed quite a few aspects of their department. National Art Honor Society now has a chapter at Cy Creek, the theatre department has changed how they organize themselves with the black box becoming a performance space and a classroom, and new technical director Timothy Estelle joined the department.
"I was talking to Ms. Shroff about the desire to connect us more and she brought up monsters and I might have squealed," Chaikin said. "It all just worked so perfectly."
This kind of collaboration is very new for the departments, and Chaikin hopes to do more things like it in the future.
"We hung art at the percussion concert, but nothing this connected and intertwined," Chaikin said.
"I think it will [be beneficial] because in the end it will bring a lot of our electives together and so many things could happen if we worked together," Killilea said. "I am excited to see what comes next for both art and theatre."
The collaboration and this school year as a whole spark an opportunity for the departments to create something larger than they have previously, with each other and with the rest of the school.
As stated in the preface of the player's handbook, "The second thing you need is a lively imagination or, more importantly, the willingness to use whatever imagination you have. You don't need to be a master storyteller or a brilliant artist. You just need to aspire to create, to have the courage of someone who is willing to build something and share it with others."
Leave a Comment