Prom 2022: An "Enchanted" Night to Remember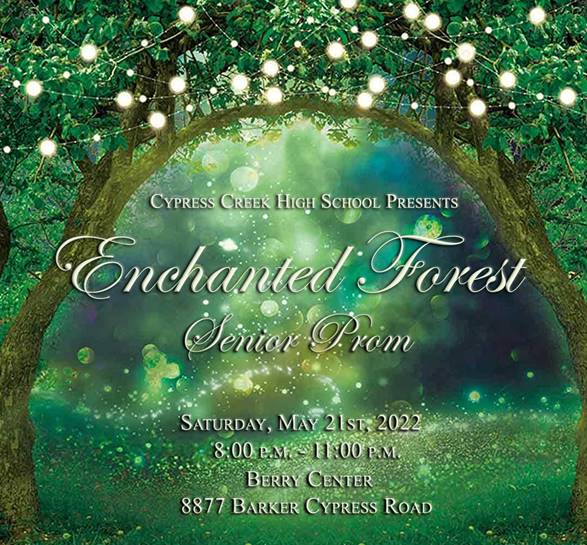 Seniors every year get to enjoy a once-in-a-lifetime experience. Prom. This dance allows seniors to express themselves through extravagant fashion choices and wild dances. Everyone gets together with their friends, hitches a luxury ride, and heads to prom.
Cypress Creek High School's graduating class of 2022 will enjoy its prom on May 21 from 8 to 11 p.m. at the Berry Center.
Finding a date can be one of the more stressful aspects leading up to the big day.
"I just wanna ask the simple question 'wanna go to prom together?' And I'm hoping for a 'sure,'" said senior Peyton Whitehead.
Whitehead is excited about prom and plans on asking someone soon. Whether her proposal is big or small, Whitehead said she will make sure it'll be enough to get the answer she's hoping for. That's what all seniors hope for: a big yes from their special someone and a huge smile to accompany it.
Posters and bouquets are abundant during this time of year and couples are consuming them by the minute.
Senior Kameko Brown, whose date is coming all the way from New York, expects a wonderful night filled with magical events and hopes their date will enjoy Cypress Creek's upcoming prom as well.
"I think prom is a nice event to close up our high school experience," said Brown. "It's a day to get dressed up, feel good about yourself and dance the night away with your friends to celebrate finally graduating! It's exciting and thrilling."
To the teachers and administrators who are helping make prom happen, the student body can't wait to see what Creek has in store for its students.
This year's prom theme is "enchanted forest," a theme that won the majority vote by the senior class, though some of those who did not vote for this theme are less excited.
"Prom is stressful, but when I go I'm sure it'll be fun," said senior Kennedy Whitmire. "Yes, I wanted a different theme, because I truly hate this theme. It's so overused."
While some will be dressing to match the theme, others plan to stand out.
"I'm looking to go for a more vampire vibe, against the crowd," said senior Angelica Melendez.
The celebrations don't always end after the dance's final song.
"Of course, I'm more excited for Waffle House after," Melendez said.
The class of 2022 seniors have left a mark on this school and are leaving behind a legacy for the underclassmen to follow.
This year's prom will be a great way to wrap up a memorable four years for Creek's senior class.
Prom will be held on Saturday, May 21 from 8 to 11 p.m. at the Berry Center, 8877 Barker Cypress Rd., Cypress, TX 77433.
Leave a Comment