A Sweet Minty Treat
The perfect peppermint bark recipe for the holiday season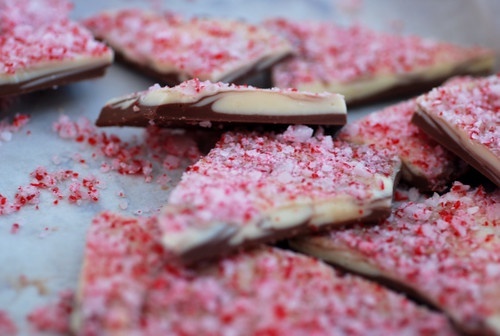 With December taking the 2019 year to a close, many have been raving about the up and coming holidays. From Christmas, Hanukkah, and even Kwanzza, the search for tasty treats to light up the holiday dinners has started. Well fear no more, because this peppermint bark will put an end to the hunt and a minty flavor left in your mouth.
Starting out, ingredients will be necessary to make this delicious bark. You will need:
-1 baking sheet
-A trusty piece of parchment paper
-A spatula
-2 pots
-Your favorite type of chocolate (try to find one that contains real cocoa butter)
-Your favorite type of white chocolate (once again, try to have it contain real cocoa butter)
-One box of candy canes (depending on how much bark you want to make will depend on how much candy canes you will need to use)
-Peppermint extract
Now for the fun part, getting your hands dirty in the kitchen. However, please start out by washing your hands before touching any of the ingredients. That way you will avoid all possible legal actions that could occur from a displeased taste tester.
-Put your candy canes in a plastic bag and go ham. However you would like to crush them up will work fine, just make sure you have tiny pieces. When done crushing to your heart's content, set the plastic bag off to the side.
-Take your prefered regular chocolate and melt it on the stove top using the double boil method, or you can melt the chocolate in your microwave, whichever you prefer.
-Take the now melted regular chocolate and spread it evenly onto a baking sheet that has a piece of parchment paper on top of it. After spreading, set the baking sheet into your fridge to help set.
-Just like before, melt your prefered white chocolate using the methods listed above. Once melted take the peppermint extract and mix in the desired amount you would like. However much you add will determine how strong the mint flavor in the bark is.
-Take your freshly melted minty white chocolate and spread it evenly on top of the regular chocolate on the baking sheet.
-Next, place your crushed candy cane pieces evenly onto the white chocolate. Make sure the white chocolate is not fully solidified so that the candy can stay stuck inside the white chocolate.
-Place the bark into your fridge and let it sit for 20 so that the chocolate will fully settle and solidify.
-Once solidified, take the bark out of the fridge and cut the bark into pieces.
After completing the above steps the peppermint bark will be in your presence. Feel free to share with others, or eat the whole thing by yourself if deemed necessary. Happy Holidays!
Leave a Comment