Story by: Lydia Estepp, Design Editor

September 3, 2016
Conspiracy #1 - The Lego gym: Does it really exist?? Alright, I have three words for you - "holographic light fields." It may sound crazy, but rumors exist that the fabled "Lego Gym" in which few have ever set foot, in fact, does not exist. Rather, the original architects ...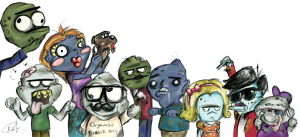 Story by: Andrea Anderson, Reporter

April 18, 2013
In the unfortunate event of a zombie apocalypse, remember these important tips: 1. Travel in herds. More friends equals less of a chance of the flesh-eating savages getting at you. Your foot might happen to slip beneath your buddy's escape route, causing him to lose his footing and becoming the ...