A lasting legacy
School soon to honor new set of accomplished alumni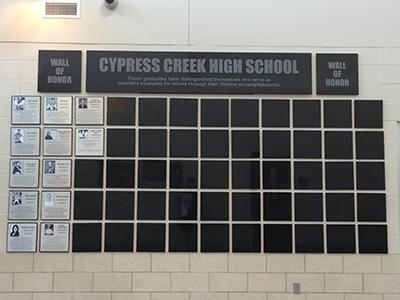 In continuation of the much-respected tradition, the school will soon determine this year's Wall of Honor class. Those who wish to nominate an alumnus must turn in the application by March 16.
Initiated by former principal Jim Wells in 2013, the Wall of Honor inductions have taken place each year at the senior awards ceremony. Building secretary Mary Ann Guidry, who works to help honor the recognized alumni, said her role in the Wall of Honor stays mostly behind the scenes.
"There is a committee of former principals/admin who meet to read over the nominations to determine who should be a recipient of the Wall of Honor," Guidry said. "The Wall of Honor recipient receives a small plaque and has their picture plus a small bio hung on our Wall of Honor on Main Street."
Guidry said the inductions help strengthen overall school spirit.
"[I'm] always proud of all of our students," she said. "I think it is great when we recognize the accomplishments of all Cy Creek grads, but it is especially wonderful for the Wall of Honor recipient and their families."
Principal Vicki Snokhous said she feels proud about this unique tradition.
"This school's rich in tradition," Snokhous said. "I just think it's a great thing to show our students what can happen if they work hard. We have all different kinds of people represented in all different fields, so I think it's pretty cool."