New bond introduces new facilities, renovations to the district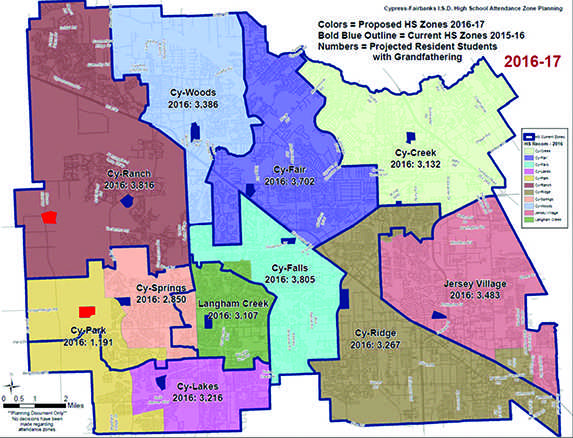 CFISD recently began construction on several new projects, including a new high school and natatorium as well as renovations to Matzke Elementary and Pridgeon Stadium, all funded by the 1.2 billion dollar bond greenlighted by the community in the May 2014 election. The bond received an approval rating of 68.71 percent.
The construction of high schools 11 and 12 means CFISD will soon split into two UIL districts, leading to the decision to put a second competition pool at Pridgeon Stadium. At first the district planned to add the new pool near Cypress Ranch High School, which would have resulted in two pools being on the west side of the district.  Associate Superintendent Stuart Snow said that the long range planning committee recommended Pridgeon as the renovation site to ensure that a natatorium exists on both sides of the district.
"The Pridgeon Stadium location [gives] better access to the schools in CFISD as well as the other schools that will be in our UIL district," Snow said.
The construction of the new Matzke Elementary building and a redesigned security system for safer conditions serves as the closest change to Cy Creek. The relocation of Matzke will create closer grouping of the feeder schools of Cy Creek. Matzke principal Cathryn Jacobs said that while the school's staff and students work diligently every day no matter the conditions, the new campus will provide an exciting opportunity for students and the community.
"The new campus will improve student safety and the overall physical learning environment which leads to improved student performance," Jacobs said.
Overall, the bond aims to upgrade the functioning in facilities across the district and better accommodate rapid student growth. The projected openings for the projects range from 2015 to 2017. While zoning for the new elementary school and high schools has not been decided, changes to Cy Creek areas of attendance are unlikely.
"Every project included in the six-year bond program is designed for the benefit of the students," Snow said. "Whether this includes new schools, new buses, high speed wireless access in the schools, bullet resistant glass and security vestibules in the schools, or other projects included in the bond program."