Taylor Swift to come to Houston for Eras Tour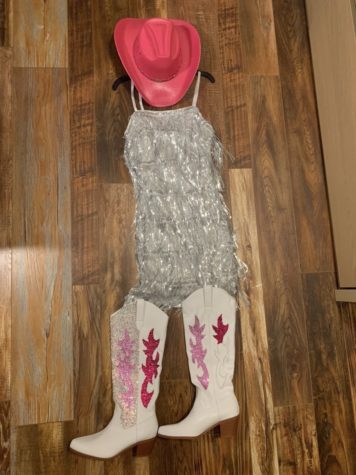 Pop star Taylor Swift will be coming to Houston's NRG Stadium for her Eras tour this weekend, April 21-23. The Eras Tour is Swift's sixth headlining concert tour in which Swift honors her past discography by playing songs from all 10 of her albums, including her most recent release, Midnights.
Several students will be attending Swift's concert this weekend. Sophomore Alena Rivera is very excited about being able to do so.
"I feel like I am going to throw up," Rivera said. "I can't think too long about it because I'll explode."
Junior Katherine Nguyen said she feels blessed that she's able to go.
"I'm feeling very 'hashtag blessed'," Nguyen said. "I paid way too much but I feel like it was worth it, and that I'm going to make a lot of memories."
Because of Swift's popularity and the fact that the Eras Show was one of the first times she'd be performing since 2018, tickets were hard to get. The demand for tickets even landed Ticketmaster and their parent company, Live Nation, into trouble due to accusations of anticompetitive conduct and fraud.
Freshman Jade Carter said it was very difficult for her to get tickets.
"I would say it was very difficult," Carter said. "I sat on my computer for three hours trying to get tickets. I had to stay in a queue and I had to wait until it was my turn to select tickets. It was a very long line because a lot of people wanted tickets and you couldn't refresh your page."
Nguyen said that buying tickets via resale wasn't any easier.
"It was really hard," Nguyen said. "Me and my friend bought tickets through resale. If you saw a good deal, it would be gone by the time you're checking out. It was very difficult."
After getting a ticket, one usually has to decide what they want to wear to the concert next. Because the tour encompasses so many of Swift's albums, concertgoers have been basing their outfits off of Swift's many eras.
Carter said she used Pinterest for inspiration.
"I sat down for an hour last night and browsed Pinterest for outfit ideas," Carter said. "I decided to go as her Fearless album because I love the gold aesthetic and the color looks good on me."
For Rivera, figuring out what she'd wear to the concert was a process of trial and error.
"I knew I wanted to do Reputation from the very beginning, but didn't know how I wanted to do it," River said. "I ordered an outfit, but I didn't like it. So I ordered a new outfit and fell in love with it."
However, unlike the other two students, Nguyen decided not to dress up as one of Swift's albums.
"I didn't really decide to go as an era," Nguyen said. "I decided to be sparkly. I have a sparkly dress and I'm bedazzling my shoes."
When it comes to what the students are most excited about, it varies among them.
Carter is most excited about trading friendship bracelets.
"I'm most excited for the friendship bracelets trading because I made a bunch and I'm excited to exchange with people," Carter said.
The concept of trading friendship bracelets comes from a lyric off of Swift's most recent album. In "Midnights" on track five, "You're on Your Own Kid," Swift sings about friendship bracelets in the lyrics, "so make the friendship bracelets / take the moment and taste it." This lyric has inspired fans to make and exchange bracelets with one another.
Rivera says she is most looking forward to listening to one of the opening artists.
"I'm very excited to see the opener Gracie Abrams and Taylor Swift," Rivera said.
Gracie Abrams, alongside fellow artist Beabadoobee, will be opening for Swift.
Nguyen is most excited about the surprise songs. So far, Swift has traded out two surprise songs to the set list each night.
Leave a Comment