Nothing new: Extreme weather here to stay for Cy Creek community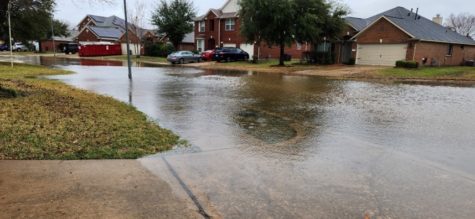 Hurricane Harvey was the most destructive hurricane to hit the Houston area since 2004, according to the University of Houston. Around 57 percent of respondents in the Houston area reported that they had been affected by Hurricane Harvey and its aftermath. These effects were immediately reflected by the politics of the area, with policy aiming to mitigate the effects of natural disasters gaining over 90 percent support in the greater Houston area.
Cy Creek has dealt with a fair share of natural disasters over the past few years alone.
"While I have been at Creek the only natural disasters we have dealt with are flooding, ice, and tornadic activity. I believe we have had to move indoors twice for tornadic activity in the area," Assistant Principal Jennifer Box said. "We have had icy conditions and canceled school several times, and we have had several flooding events including Hurricane Harvey."
Principal Vicki Snokhous notes the Tax Day Flood of 2016 and the freeze of 2022 also impacted the campus in addition to Harvey in 2017.
"I've been at Creek for a very long time, so I've been here for all of them," math teacher Robin Rasco said. "They kind of blur together. So many kids flooded during Harvey and the Tax Day flood. Those are the ones that stand out to me. My own house flooded a little during Ike."
Notably, the Cypress Creek watershed is the fifth largest in Harris county and "Like much of Harris County, the Cypress Creek watershed is flood prone," according to the Harris County Flood Control District. With an extensive network of flood plains around the Houston area, it is not surprising that Cy Creek has experienced numerous natural disasters and floods throughout the years.
Cy Creek High School is less than a mile from both a 100-year (an area with a one percent annual chance of shallow flooding) and 500-year flood plain (an area with a .2 percent annual chance of shallow flooding).
Houston and the Gulf Coast at large have experienced many storms throughout their history, some of which caused more damage than other storms in U.S. history.
"[Hurricane] Allison had left Harris County, Texas, with 22 fatalities, 95,000 damaged automobiles and trucks, 73,000 damaged residences, 30,000 stranded residents in shelters, and over $5 billion in property damage in its wake," states the Harris County Flood Control District website. The site continues, "The occurrence of Hurricane Harvey and the devastating flooding that resulted have inspired discussion and concern regarding our county's drainage infrastructure, as well as our collective ability to withstand such a severe flooding event. Simply put, we have never seen a storm like Harvey."
"Kids are resilient, and I feel like Creek students handled things with strength and courage," Rasco said. "I can't imagine getting up and coming to school when your home life is recovering from any kind of natural disaster. But, students did what they had to and took care of business. The biggest effect on students had to be after Hurricane Katrina. I got several new students coming from Louisiana. Those students had to move to a new city and a new school; that was a tough year."
While 2001's tropical storm Allison was historic, it was before most of Creek's present student body had been born. Hurricane Harvey and the 2021 freeze, however, took a much more personal toll.
"The floods and the ice storm took students' homes and personal belongings. This can cause severe emotional distress. Students being displaced from their home is a hardship as well," Snokhous said.
"The flooding associated with Harvey, however, did impact many students. Not only were students not in school for a while, but some had to move to different housing which made them have to change schools. The bad freeze/ice event last year also caused some students to move due to burst pipes and flooding," Box said.
Hurricane Harvey was one of the most damaging storms in U.S. history, with property damage only topped by Hurricane Katrina.
"It should be noted that a total of 1 trillion gallons of water fell across Harris County over a four-day period. This amount of water would cover Harris County's 1,800 square miles with an average of 33 inches of water," The Harris County Flood District states in an article. "(…) Harris County generally receives an annual rainfall of about 50 inches per year; our county received this much rainfall in just a few days."
According to the Houston Chronicle, over four and a half million people lost power during February 2022's historic winter storm, over 14 million people were under a boil water notice, and 246 people died by the official count.
Though current students may remember Harvey or the freeze, staff members can recall similar events stretching back to their own childhoods growing up locally.
"For Hurricane Alicia, I was out of school with no electricity for two weeks, so that is something that happens in this part of the country," Box said. "It does seem that we are having more weather events than in the past, however, and that will always impact schools. I do not remember school handing out meals and that kind of thing like we do now."
"I grew up in Oklahoma where we had tornadoes and blizzards," Snokhous said. "These caused the same thing, like loss of homes and belongings and the same issues with emotional stress and displacement."
Those who did not grow up in the region may be less prepared for local weather events.
"I moved from Delaware to Texas back in 2007," environmental science teacher LaGina Nosavanh said. "The weather patterns here are different for me. What I did notice when I moved to Texas was the Ozone Alerts. Since there is more people and pollution in Houston as compared to my hometown, the heat is more intense. I couldn't believe I could get sunburned."
It is important to note climate change's effects on the frequency of natural disasters. The Harris County Flood Control District notes that "Historical high-water marks along portions of Cypress Creek indicate that the October 1949 flood was the highest-known flooding event until Hurricane Harvey in 2017."
"With increasing global surface temperatures the possibility of more droughts and increased intensity of storms will likely occur. As more water vapor is evaporated into the atmosphere it becomes fuel for more powerful storms to develop. More heat in the atmosphere and warmer ocean surface temperatures can lead to increased wind speeds in tropical storms. Rising sea levels expose higher locations not usually subjected to the power of the sea and to the erosive forces of waves and currents." states the United States Geological Survey.
"The number of disasters has increased by a factor of five over the 50-year period, driven by climate change, more extreme weather and improved reporting," notes the World Meteorology Association.
As put by Anne Stoner and Katharine Hayhoe in their climate impact assessment of the city of houston, "Human society is built on the implicit assumption that climate is largely stationary: that historical records can be used with confidence to determine the energy loads of our buildings, the hundred-year floodplains of our cities, and the growing zones for the crops that power our economy and feed our world. What happens when that assumption is no longer valid?"
There are concerns that even now the FEMA maps designating flood risk are already inaccurate.
As pointed out by Kevin T. Smiley in a Rice University study, "One of those models, from the First Street Foundation, estimates that the number of properties at risk in a 100-year storm is 1.7 times higher than the FEMA maps suggest. Other researchers find an even higher margin, with 2.6 to 3.1 times more people exposed to serious flooding in a 100-year storm than FEMA estimates."
Outdated maps and data can lend a false sense of security.
"The logic goes: if I'm not in the 100-year floodplain, then I'm not at risk." Smiley said.
Chances of severe storms are only increasing, and Houston is no exception.
"If greenhouse gas emissions continue to increase at a high rate, computer models suggest that the chances of a severe storm dropping 20 inches of rain on Texas in any given year will increase from about 1 percent at the end of the last century to 18 percent at the end of this one," Smiley said.
A Yale E360 study states, "Previous estimates suggest that climate change increased Hurricane Harvey's rainfall total by 15 to 38 percent. When Harvey hit Harris County, Texas five years ago this month, it flooded around 100,000 homes. But without climate change, the study found, some 30,000 to 50,000 homes might have been spared, avoiding billions of dollars of residential damage."
The Harris County Flood Control District leaves us with one haunting message: "The catastrophe of Hurricane Harvey is unprecedented for any major metropolitan U.S. city. But, it doesn't take a catastrophe for flooding to occur. It can happen almost anytime, almost anywhere. A storm of this magnitude in our region will happen again. It's only a matter of when."
Leave a Comment