Student Section: Come early, be loud, be positive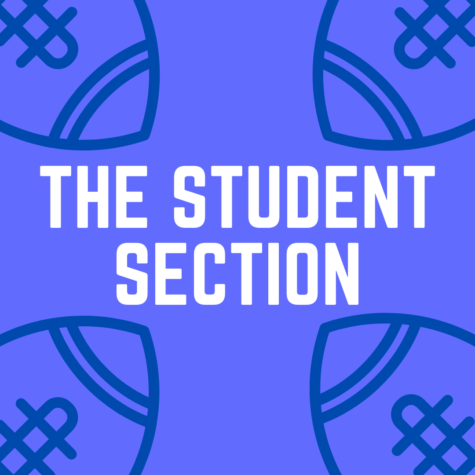 The student section has been a hallmark of the football experience for students, and this year is no exception. The student section creates an energetic center for school spirit during sports events. This year, however, with the large influx of freshmen, some students aren't pleased with the behavior displayed during the football games.
"Some people need to be respectful to the space and the people on the field. Being disrespectful to our space and entertainers isn't cool man," senior Cecilia Killalea said.
This kind of behavior does not follow the school's expectations, according to Assistant Principal Michael George.
"The campus expectation for the student section is that our students come early, be loud, be positive, and be involved in the game," George said. "Student behaviors should showcase their Cougar PRIDE, just as on campus."
However, there is some confusion among the student body on what exactly the expectations are for the student section, as it is an after-school activity rather than an on-campus event.
George clarifies that, "The Code of Conduct covers all student behaviors just as they would be covered on campus. Simply put, Game Day is an extension of the School Day."
Junior Valeria Blanco Perez is one student who has noticed a change in the student section this year.
"I definitely feel like the conduct has changed a lot from past years," Blanco said. "And it's understandable because our incoming freshmen and some sophomores have never been in the student section before, therefore they don't know student section etiquette."
"Students need to listen, but teachers also need to calm down. Teachers literally look for anything and everything on students. Like, calm down," Killalea said.
Despite all of this, students this year have been enjoying the student section.
"I love our student section – we always have so much fun," Killalea said.
"I think our student section is definitely living up to its reputation! I am a fan of going to the games, and there's always a sense of unity between everyone. We're all Cougy Cougs!" Blanco said.
George would like to see student participation in the student section grow.
"We have some students that come to games that don't sit in the student section for whatever reason. Our players, cheer, band, and Silvies feed off of a full student section that brings the energy," George said.
The student section is something very near and dear to many students and a tradition meriting respectful behavior.
"I just hope we can keep the student section a fun experience for everyone," Blanco said.
Leave a Comment