Galloping towards his future
Junior Kaleb Vandervort talks about his success and plans in horseback riding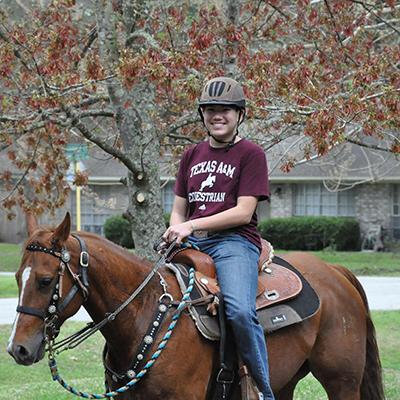 Leaping through the air for the first time, the wind blowing against him as he flies forward. The feeling of flying may only last for a split second, but the feeling of success stays with him.
Since he began equestrian riding at the age of five, junior Kaleb Vandervort uses every minute of his spare time working to improve his skills in horseback riding in order to create a future for himself in the world of equine.
"I love horses," Vandervort said. "I never grew out of [the] 'I love horses' phase. I schedule my weekend around when I can go to the barn and how long I can be there."
Vandervort continues to ride because he said it teaches him lessons he can apply to his everyday life, like how to trust people and hard work leads to success.
"Hard work can get you anywhere," Vandervort said. "Without working on becoming a better rider, I would be nowhere."
Along with riding, Vandervort teaches riding lessons, participates in the Future Farmers of America (FFA) horse judging team and takes part in his barn's bi-annual play day rodeo.
"I am challenged by my competition which in turn makes me a better rider," Vandervort said.
Even though he has a passion for riding, Vandervort still struggles to convince people horseback riding qualifies as a sport. Vandervort said the amount of core, leg and arm strength required easily compares to any other sport.
"By no means are we wimpy people," Vandervort said. "The hardest part about horseback riding is the ground, and when you get thrown from the horse you get back on and keep going."
In the future, Vandervort plans to study equine at Texas A&M University then plans to obtain a career in equine nutrition or as a horse chiropractor.
"My ultimate goal as a rider is to be in the Olympics as a show jumper, and I want to show people that you don't have to have all of the fanciest equipment to be a great rider with a great horse," Vandervort said. "What really matters is that you have a stronger friendship and trust with your horse than any of your competition."