"Sparks Fly" at the UIL Young Filmmakers Festival
A young animator spends 20 hours over three days hunched over a computer. Eyes burning from the bright glow of the screen. Dramatic music plays over two lovers as one makes the ultimate sacrifice for their significant other. In the short animated video "Sparks Fly," the fuses belonging to two sticks of dynamite lit with only one bucket of water in sight.
This video, created by senior Eric Estepp, placed second for the computer animation category at the UIL Young Filmmakers Festival. Finalists learned of their rankings at the Paramount Theatre in Austin on Wednesday, March 2.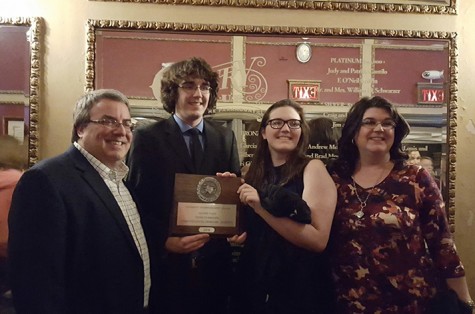 Inspiration behind the film comes from Estepp's imagination and his love of animation.
"A lot of people tell me I have a twisted sense of humor, and I've always enjoyed animation and cartoons," Estepp said. "So I basically decided to throw the two together, and this is what came out of it."
Out of 750 entries, "Sparks Fly" advanced to the final round of the competition along with five other videos. Estepp said he did not expect to make it this far, but blames his doubts on his pessimistic mentality.
"I'm really excited, honestly," Estepp said. "This is a really big competition with hundreds of entries, so I'm really honored to have been chosen among the select few."
Estepp began to develop an interest in filmmaking around the age of 12, but did not get into animation until his sophomore year of high school when he learned how to use the right software. Accepted to the California Institute of the Arts, he plans to pursue animation.
"I have always enjoyed animated movies and shows throughout my entire life, and I think it would be really awesome to get to make them myself," Estepp said.
Estepp also manages a YouTube channel, DoubleEdud, with over 24,000 subscribers and he works as a technical editor and anchor for "This Week at Creek."