Part time spanish teacher, full time softball coach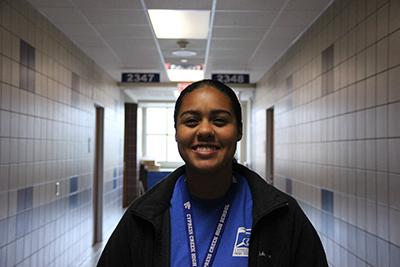 "Practice makes better" she tells herself as she swings the bat. The ball flies past her face, a gust of wind blows her hat off and the batter makes a home run. The coach cheers, all the hard work and coaching has finally payed off.
Junior varsity softball coach and Spanish teacher Heydi Martinez started coaching in college when she had her own intramurals team. Martinez said she really enjoys her first year teaching here.
"Being my first year here, I knew I have to be confident and let them know my expectation," she said. "From the beginning, I knew I had to be tough on them, and then I could ease my way with them throughout the season. I feel like I made a good impression on them. They like me; I like them."
Being a coach comes with many benefits according to Martinez. Seeing how the students progressed, not just physically but mentally, helps her confidence grow.
"I have a saying that in practice. I always say "practice makes" and the girls say "better" because I truly believe that practice does not make perfect because there is no such thing as perfect," she said. "We are human; there's so many flaws, and as a team we progressed. So I really feel like it's the best thing.  Progression is key."
Martinez said she finds enjoyment in teaching Spanish and softball.  
"I feel like the most exciting part is when I just see the students, whenever I see their face brighten up," she said.
Softball brings a lot to the table when it comes to competition, it takes a team to work together and to bring home the win. Martinez said the best part about softball comes from bonding as a team.
"The fact is you can't win a game by yourself," she said. "Yes we have a pitcher, but a pitcher can't win the game by herself. She needs a team to back her up, and she needs getting hits offensively, and that's a team effort. There's a lot of bonding with the girls especially when there's really close games. It gets really exciting."
Whenever the team loses a game, Martinez does not get mad. Instead, she gets happy for the effort the team produced.
"I personally do have a competitive personality, but that's just me when I play," she said. "Being a coach is different, because I'm not gonna scream or be mad at one of the girls for not doing great job. As long as they give me the best they can do, it works for me. I really feel that winning is great, but it's not the most important thing."