"Brains as Brawn"
Science Olympiad students work hard to accomplish goals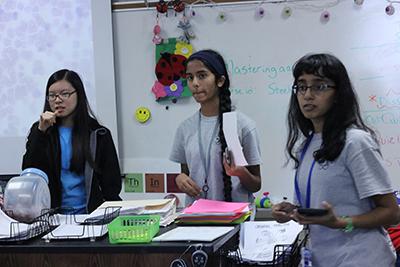 A computer scientist, a physicist, an engineer, and a doctor (all aspiring) walk into a competition room. They have nothing but their notes and their brains.  In the next hour, they will show the judges everything they've spent so much time learning, either by building, programming, or simply testing.
Participating in the "nation's most exciting K-12 science competition," as described by www.soinc.org, members of Science Olympiad must practice hard and put forth their best effort in order to positively represent their school and themselves. Senior Ravi Goparaju, the vice president of Science Olympiad, believes doing so leads to success.
"You have to be able to be on top of your study materials and things that you have to prepare for," Goparaju said. "If you come to the competition unprepared, you're not gonna do well."
Goparaju said he enjoys finding out about new topics that would not be taught in the classroom.
"You learn a lot of things that you normally wouldn't be exposed to," he said. "For example, one of the events that we do is astronomy, and I know one of the classes here teaches it, but in Science Olympiad the material that we learn is far more advanced than what we learn in class."
Senior and club secretary Roshni Bhudia said students need to show effort when competing.
"The people that proctor us are also science teachers, just like the science teachers here at any high school," Bhudia said. "They really like it when they see students that are willing to go beyond school time and study for something that they won't even probably get tested on."
Bhudia believes participating in the club will affect her future career.
"I want to be an engineer when I grow up," she said. "Being in this club will help enhance our admissions to college, and colleges like seeing that we did more than volunteer at like a poodle shelter or something. We actually did stuff that's related to our field."
To senior and president Jennifer Zheng, the club means more than just competing.
"We're very close-knit," Zheng said. "When [people] join the club they come with friends because they can do partners or group projects… It's really fun because you get to work with your friends and come over to their house and practice together."
Zheng said she has been looking for more people to join Science Olympiad.
"Right now we have maybe a little bit more than just one team," she said. "Since the club was getting smaller every year, because they weren't advertising and spreading awareness of the club, I wanted to take part in getting more members so they can take part of this club. It's really fun."
Despite the low membership, club pride runs strong among the teammates, according to sophomore and treasurer Prachi Shah.
"It's like a national organization, so it's not a little school-run club," Shah said. "It's a big deal, and you get to compete against all the schools, so you can kinda see where you stand with everyone else. You make a lot of friends, and you have a lot of good experiences, like studying on your own and doing work independently without having a teacher riding you all the time."
Members of the club take control of their own assignments.
"If you study properly and you get everything together, then you should be good," Shah said. "You learn how to be responsible for your own work, because like I said, no one's making you do this, and so it's a lot of self-sufficiency and being able to work on your own."