Welcome to Creek Nation
Snokhous takes over as principal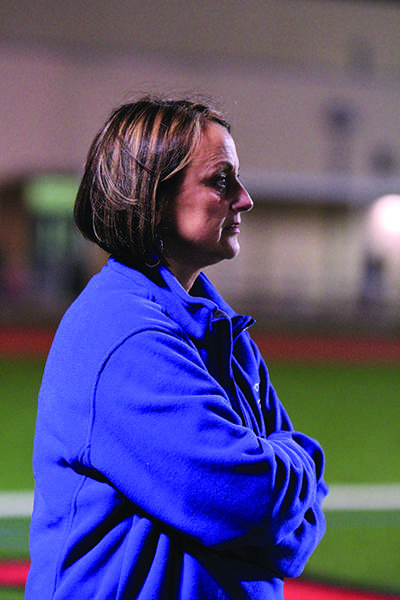 Exhaling a sigh of relief, the new woman on campus smiles as she sinks down into her office chair. Meetings and 'Main street' keep her on her toes, but now the real work can begin.
Vicki Snokhous started as the new principal in October, marking her seventh position in her 32nd year of education. Snokhous worked as a science teacher for 16 years, teaching both middle school science and high school sciences such as biology, anatomy and physiology. She entered into administration at Cy-Fair High School as an achievement specialist for a year, moved on to an assistant principal position for five years and later served as an associate principal for three years, before going back to a middle school setting and becoming the principal of Arnold Middle School for six and a half years.
"And that brings me here to Cy Creek," she said.
Information from her colleagues at Cy Creek reinforced Snokhous' discovery of the vacant principalship within a district email. Snokhous said one of her goals has always been to work as a high school principal.
"I was pretty comfortable at Arnold; I had Arnold where I wanted it to be academically and discipline wise," she said. "I just was ready for a new challenge and to be on a high school campus."
Struggles accompany the principal's transition to a new campus, such as not knowing a large amount of people. Students who previously attended Arnold or Cy-Fair and teachers that she already knew make up the only people Snokhous immediately recognizes. Snokhous said this is her biggest obstacle.
"You know, kids are the same in education wherever you go, but I just like to know people, so it's been difficult," she said.
However, the lessons available to learn from her new campus outweigh the discomfort of unfamiliarity. Snokhous said she always likes to see how students learn and change with the times and what they're not afraid to try.
"The thing about kids is they are so adaptable; they can change and move and flow where adults cannot do that always so easily," she said.
Snokhous said she admires the perseverance of her new school, as well as the outpouring of school spirit seen in the student organizations and the strong academic foundation.
"I hope to add to that [spirit], with a desire to do what's best for students because every decision that I make as a principal is for the students of Cy Creek," she said. "And to help ensure our job as a campus to help students graduate from high school, and that we do everything possible to help them achieve that goal of graduation."