'Hopelessly devoted' to theater
Grease leads begin preparing for rehearsals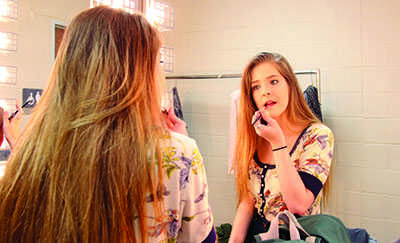 "I got chills, they're multiplying, and I'm losing control. 'Cause the power, you're supplying. It's electrifying!"
Amid the hectic start of the school year, students perform their hearts out underneath a harsh spotlight and the judgmental stares of directors. The actors fight for a top spot in the show through three intense days of auditions including singing, acting, and dancing.
Junior Courtlin Parisher and sophomore Alex Kerry star as the show's two leads. Playing the classic couple- 'Sandy and Danny' in this year's production of "Grease", they prepare for demanding and intensive rehearsals. However, they know exactly what a life in theater entails.
"When I was little, I would just try to do everything," Parisher said. "But theater was the one thing I really liked."
Both have participated in multiple Cy Creek productions such as "Legally Blonde," "The Bright Blue Mailbox Suicide Note" and "Game of Tiaras." While both have a love for performing, it does take a toll on their personal lives.
"You have to sacrifice having a lot of free time, but that's mainly it," Kerry said. "It's more rewarding than it is sacrificial."
These actors may give up a social life, but make new friends and experiences from the seemingly never-ending rehearsals. Kerry said that his favorite part of a show includes getting close with the cast and crew.
"I really like the rehearsal process; you make a lot of friends, and it's really fun to me," Parisher said. "[For] other people, it's like drawing or whatever, but being on stage is what I like to do."
The play will open on Jan. 22 at 7 p.m. and close on Jan. 25 at 7 p.m.