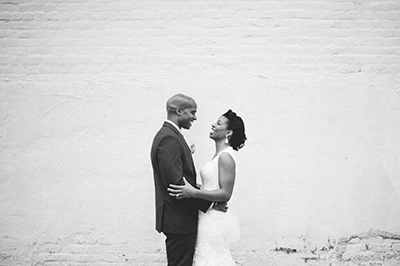 Brittney Hughley
English teacher Brittney Hughley – formerly known as Ms. West – married her fiancé Nicholas on Dec. 20. The engagement took place on Aug. 4, 2015.
According to her, the day of her proposal seemed like a regular Tuesday at first.
"We took a day trip to Austin, and Nicholas told me that he was going to plan out the entire day," Hughley said. "The first place we went was to the 'I Love You So Much' wall, and we took pictures there. Then he told me that we were going to do the Pinot's Palette, which is where you paint and you eat and have drinks and stuff like that."
Upon arriving at the painting class, Hughley said she began to notice something different.
"They're playing music as we paint, which is what they usually do," she said. "I'm like, these songs sound very familiar … it's the same songs that are on our shared Spotify playlist.' And I was thinking, oh, maybe he just told her what songs to play. We go and wash our hands in the back, [and] our song comes on, which is the Billy Currington 'She's Got a Way With Me' song."
Hughley said she didn't expect what would happen next.
"So we end up painting a picture of a couple and a heart," she said. "Then the painting instructor is like, 'I have one more picture I want to show you.' Well, she comes out with this painting, and it's the exact same [one] we painted, except it says 'Brittney, will you marry me?' And so of course I start bawling."
The wedding, which took place four months later, seemed surreal to Hughley.
"[My favorite moment was] when I got to the aisle with my dad, and I saw Nicholas at the end," she said. "He was almost jumping up and down, he was so excited! He didn't cry, which I thought he was going to. That was the time I got to take everything in, and I saw him and I was just like, 'Oh, my goodness, this is happening, this is real.'"
She said that she will always remember the short time the couple spent alone between the ceremony and reception.
"We just went into the back room and had a moment like, 'Oh my god, we're married!'" she said. "It was just us, because the whole day we were around people, so to have just a moment of peace and quiet was awesome."
Hughley said she finds amusement in the fact that students have not quite adjusted to her new name.
"It's been more funny than anything," she said. "I've had everything from 'Mrs. Huge-ley' to 'Hoogeley' to 'H' to 'Buley'. They've been accustomed to calling me 'Ms. West,' which I understand. They'll adjust in time, and if not, the kids next year will only know me by Mrs. Hughley anyway."