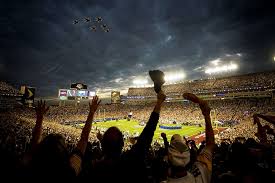 Story by: Sam Billings, News Editor

January 30, 2017
To celebrate the Super Bowl taking place in Houston, the city decided to put on a week of live concerts at Discovery Green. This Music Monday includes the artists performing in Houston this week. ...
Story by: Nick Mauldin, Sports Editor

March 28, 2013
In the Main Street hallway, just inside the entrance to the school, hang nine new plaques with the stories of nine alumni who went on to achieve greatness in their respective fields.     "What a great honor it is to be inducted," retired NFL player and class of '96 graduate Josh Williams sai...