Bring It On: Fight to the Finish
April 16, 2015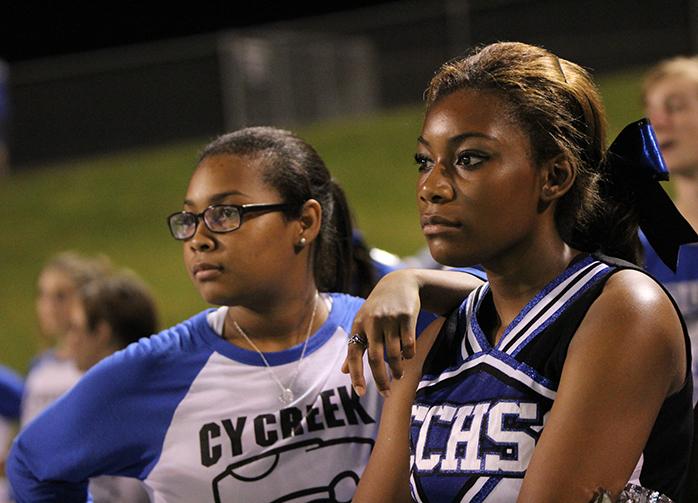 Photo by: Akilah Smith
After 14 years of pom poms, hair spray, competitions and cougar calls, senior Jordan Jones will retire her cheerleading career in college.
What experience did you have with cheer before joining school cheer?
"I've been cheering since I was four years old. I used to cheer in private school starting around pre-K then I started getting into competitive cheer at Cheer Nation. I cheered there until 8th grade."
Why did you want to cheer?
"The reason why I wanted to cheer at Creek is because that's what I grew up doing and that's all I know how to do and I wouldn't have traded cheering for anything."
How did you become interested in cheer?
"I really don't know how I became interested in cheer, it just happened. But it felt natural to do it while growing up."
What was your favorite favorite part of cheer?
"My absolute favorite part of cheer was the games and being one of the main sources for the student section to get loud and enthusiastic, then on Fridays the cheer team gives the life skills kids a personal pep rally. To see the way they lit up of excitement and joy made me so happy."
What was your least favorite part of cheer?
"My least favorite part about cheer is when we would try to keep the crowd going at games and the crowd didn't interact; they only hyped up when drum line came out."
What will you miss from cheer?
"What I will miss absolutely the most about cheer is my coaches [Nicole] Leclaire and [Alyson] Marz and goofing around with my teammates and of course the games."
Will you cheer in college?
"A lot of people have been asking me will I cheer in college. I would love to but I have to see if I could balance sorority life, keeping my grades up and interning while cheering."