A new legacy
Sophomore Sydney Coachman and team work to fulfill water polo tradition
April 16, 2015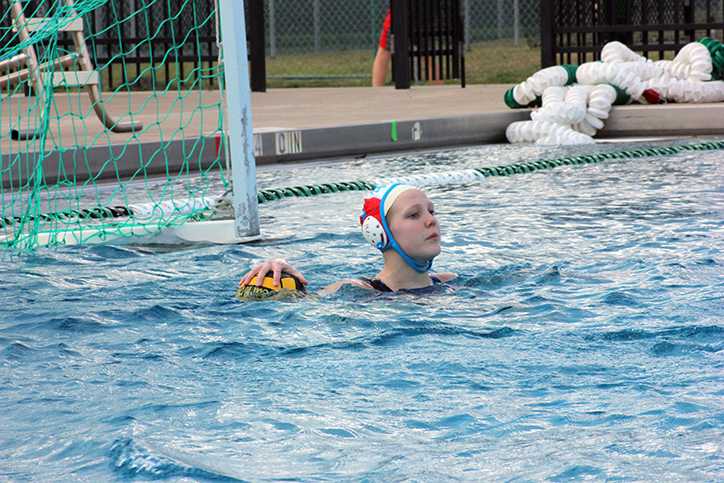 Photo by: aaa
As the water polo team kicks off their spring season, sophomore Sydney Coachman speaks about the team's success in the past years and what it will take to earn a spot at state this year.
Q: How many upperclassmen are still on the team this year, and do you feel any pressure to live up to their success last season?
A: We have four upperclassmen. I would really want to be as good as Annie Eubanks was last year because she almost made State MVP. So that's like a big accomplishment.
Q: What are the team's goals for this season?
A: State is definitely our goal and I think we'll just have to work together.
Q: What is the water polo practice schedule like?
A: Right now we have three-a-days on Mondays and Wednesdays, but we are going to go to two-a-days after spring break. We'll have morning practices and afternoon practices.
Q: What are some of the ways the team works to be closer?
A: We like to schedule team bondings, so we have an annual scavenger hunt. We all get in cars and we have to take pictures doing some different things and we have to come back together. We watch movies or we hangout and have an ice cream party.
Q: Why water polo?
A: It's been my favorite sport since I was eight. My friends Annie Eubanks and Sam Schorr were playing; we went to watch their games and I started the next season.
Q: What does water polo coach Jeff Chandler expect from the players?
A: Hard work. Really hard work.
Q: What games are you most looking forward to?
A: I'm looking forward to the Baytown games and the Jersey Village games because they're our biggest competition.