A day in the life of a cop
March 16, 2015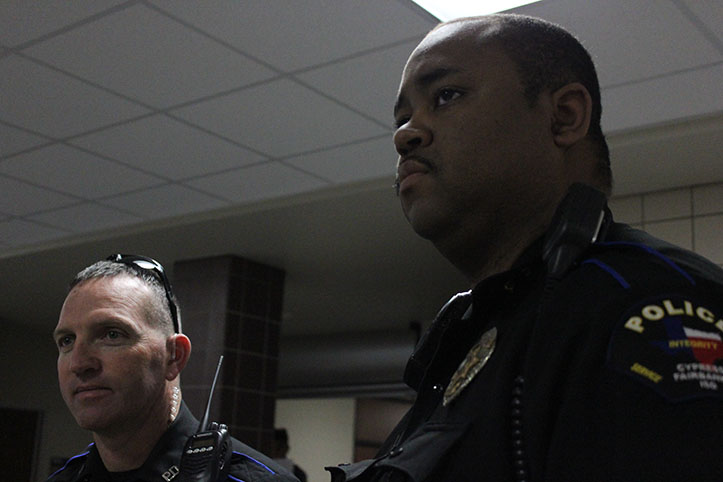 Photo by: rayya gordon
The boys in black, with their heavy boots and jangling handcuffs, patrol the halls, stand in on assemblies and direct traffic in the parking lots. Their ultimate goal revolves around keeping students safe, but a specific outlook comes with this purpose. Welcome to the mind of a high school cop.
Officer William McDonald started working in CFISD this past September. Before joining the school staff, he worked for the Harris County Sheriff Department.
"I left because I got tired of seeing young kids come to jail," he said.
McDonald works to promote his main belief: safety. He works with the administration and within the parameters of the law to keep students as safe as possible.
"I don't make the law, all I do is enforce it," McDonald said.
His partner, Officer Cougan Hignight, has served as a cop for eight years. Although employed with CFISD for over two years, Hignight recently received an assignment to this school.
"I've been at this school for four days now [since Jan. 5]," Hignight said.
The things Hignight deals with while working with teenagers change constantly. He combats this by attempting to teach students to use common sense.
"Every lunch, every passing period, every hour and every minute is different because there's so much diversity," Hignight said. "If students are educated, it makes it easier."
The student body holds varied opinions about the benefit of the campus police officers. Some, like junior Lily Nguyen, say the officers seem dramatic and their actions hurt more than help.
"Creek cops have no chill," Nguyen said. "I showed up late one time and they tried to handcuff me and wouldn't let any of us go to class."
Other students don't mind the cops because they understand their purpose. Senior Matt Ramsdal said he doesn't have a truly negative or positive opinion about the campus police.
"I think it prevents people from doing really wrong things," Ramsdal said.
Students recently received information about changes to the campus door security policy. Because McDonald and Hignight protect over 3000 students by themselves, they say the limited access policy can help them police the controlled environment that is a school campus.
"Anyone who needs access to all doors should have a key," McDonald said. "If that means you have to walk to the front doors when you're late, don't be late."
The officers' ability to fine students caught using profanity comes from a state regulation regarding disorderly conduct. The school officers have the right to dole out consequences for offensive behavior, but say they prefer to model the proper behavior for teenagers, in turn helping students prepare for the real world.
"I'd rather talk to you than take you to jail," Hignight said.
The police officers assigned here say they strive to train young adults as they go out into the real world.
"You have to wake up; you have to be on time; you have to work," McDonald said.
Both McDonald and his partner continue to operate with a mind set focused on protecting students.
"We only want to tell you about safety and security," Hignight said. "If anybody at any time has any questions or concerns, they can talk to us at any time."