From intern to inspiration
December 2, 2014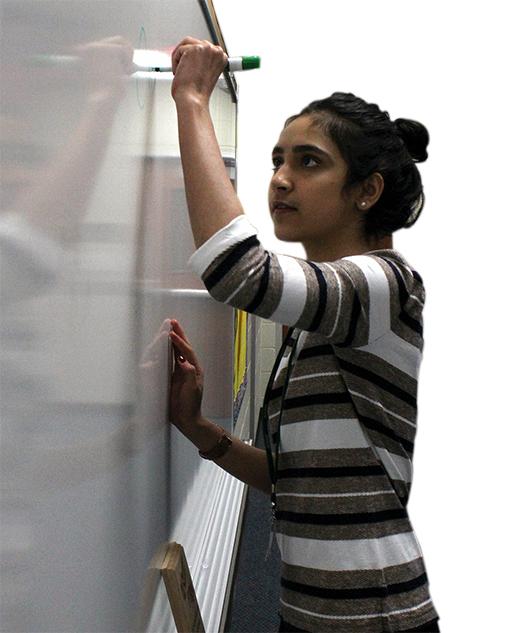 Photo by: Holly Hearn
Inspired by her role model, democratic politician Wendy Davis, sophomore Avneet Randhawa wanted to make a change by starting the feminist club.
"I met Wendy at a door-to-door campaigning walk-a-thon", Randhawa said, "Wendy Davis had come to the house of the person who was hosting it and she was giving a long speech about what she's going to do for Texas and her plans."
After their first meeting, an opportunity to intern with Davis presented itself to Randhawa.
"One of my friends was already an intern for Wendy Davis and she asked me if I would be interested, and of course being a very independent democratic woman, I was very inclined to say yes," Randhawa said. "I told her I was interested and then I received a phone call from one of the group advisors within a week."
Randhawa said walking from house to house, campaigning and spreading word about Davis helped her work towards a better Texas for all people.
"I realized I was going to be a part of making a change in Texas that was going to help benefit the lives of basically everyone in Texas," Randhawa said.
Davis' work for the political equality of women in Texas spoke personally to Randhawa who had been a feminist for years after realizing the lack of females in leadership positions. Wendy Davis inspired her to create the feminist club: a positive force for gender equality and the education of students about feminism.
"I want to help create the change that would make our generation come have full equality," Randhawa said. "My main goal for this club is to make them get angry, realize there is a problem, and continue to want change. I want our school to be the change that this world needs."
Randhawa's inspiration from Davis allowed her to in turn inspire others in the school and community to become activists for the rights of not only women, but the people of Texas.
"I want women to realize that they need feminism," Randhawa said. "That in order to function in society properly, they need to realize that their value is held equally to men and if they're already downgrading themselves by telling themselves that they aren't, saying that we are just housewives or that they believe in a patriarchal society, they're lessening the value of an entire gender."