Faculty remembers beloved teacher
September 12, 2014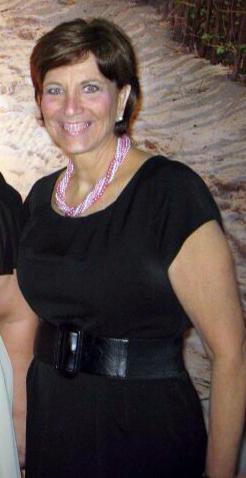 Photo by: Photo courtesy of Amy King
English IV teacher, mother and friend Pamela Pherson passed away on September 4, 2014 at age 64 in Houston, Texas, after a long battle with cancer. She was with family at home at the time.
Born in Muncie, Indiana, and on August 18, 1950, Pherson later graduated from Ball State University and moved to Cypress where she became involved with the Cy-Fair community for 28 years. Pherson taught on campus for 17 years.
Pherson is survived by her husband Kris Pherson and her two daughters Emily Pherson and Elizabeth Chiasson, both Creek alumni, her sister Darlene Sherrill, and her grandson Nathan Chiasson.
***
Breathe. Breathe. Breathe.
The word stood in broad, blue letters on a plaque in her classroom, the meaning behind it ingrained in the minds of her loved ones.
Gazing at the plaque her "Texas Sister" created for her only a few years before, English IV teacher Janice Curlee remembers her close friend and former coworker who lost her battle to cancer on September 5, Pamela Pherson.
"When things get tough and you feel like you can't move forward anymore," Curlee said, recalling it as one of the most memorable things her dear friend told her, "you put one foot in front of the other… and breathe."
Pherson helped her loved ones and students stand straight when they needed someone to lean on, whether it came to physical injuries, emotional trips, or support when they had difficulties.
"She was one to fight for the underdog," Curlee said. "If she had students that were struggling, she would do anything and everything possible to help them succeed."
Whether if it be family or friends, it didn't matter. When someone else needed something, she would drop everything and take care of their needs before she would take care of her own, said Curlee.
"I always admired the fact that for the greatest part of her career that I knew her, she taught kids that no one else wanted and got them to graduate," AP Human Geography teacher George Heap said. "She had a gift with that because not a lot of people could do that."
Several years ago, after a struggling student graduated and came back from the military, he decided to call her and ask if she'd like to ride in a helicopter, as he was learning how to fly.
"I had asked her afterwards 'Why on earth did you do that?' and she said, 'Well I didn't want to disappoint him,'" Curlee said, shaking her head at the memory. "It was just that simple: You don't disappoint people who are counting on you. And that was her basic philosophy."
While helping everyone with their needs and values, Pherson often camouflaged her own as something that she didn't need help with. And then one year her "Texas Sister" (Curlee) did the unthinkable: Surprised her with a gift.
"Mrs. Pherson was a huge Toby Keith fan," Curlee said, pointing to the two pictures of her friend standing next to her idol. "So one year I didn't tell her until right before we left the rodeo that I had gotten us backstage passes to take a picture with him."
For more than a decade, Pherson fought a rare soft-tissue cancer. What surprised people more than her diagnosis was that she was so optimistic about her condition.
"She was very matter-of-fact about [telling people]," Curlee said. "'I have a tumor and I might get another one someday, and who knows? If I do, I'll deal with it then, and if we don't, we don't have to deal with it then."
But even though Pherson was straightforward with others about her life, many ofthe faculty didn't didn't know about her diagnosis.
"You never would've known she was sick, she was always positive," close friend and fellow English IV teacher Julie Markwood said. "She never wanted anybody to feel sorry for her ever."
Even her students seemed oblivious to their English teacher's background of past surgeries and visits to the hospital.
"I have memories of her talking about her back pains and how they kept her from grading papers," former student Samantha Casas said, "but i did not know it was cancer."
When Pherson grew a cancerous, very painful tumor in her leg, she decided to get chemotherapy, knowing that there was only a 15 percent chance that it would work.
"It's like she would try anything if there was even the tiniest chance that it would help," Curlee said.
On September 5, 2014, Pamela Pherson passed in the hospital, survived by her loving family, husband Kris Pherson, and her two daughters Emily Pherson and Elizabeth Chiasson, both Creek alumni, her sister Darlene Sherrill, and her grandson Nathan Chiasson.
"This is a huge loss for the Cypress Creek community, and it's a huge loss for the English department," Markwood said. "She was literally our heart and soul."
Breathe. Breathe. Breathe.
"And that was our little codeword to take a deep breath, step back, and remember that things will get better," Curlee said, smiling. "What a lady."