Senior Ads
There are 713 seniors in the Class of 2023 and only 18 pages of senior ads in the 2023 Cougar Pride yearbook. Will you get yours?
Senior ads are a way to honor your senior and their accomplishments. All senior ads use professional-level graphic design tools to highlight students' personal photos and heartfelt messages from family. We have options to meet a range of budgets, including payment plans.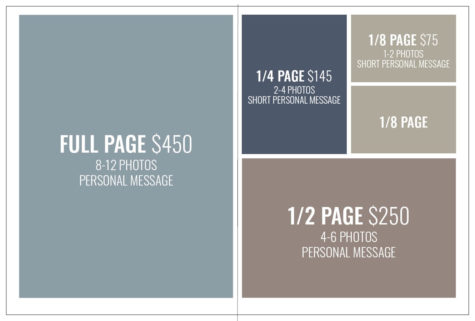 2022-2023 Senior Ad Rates:
Full Page Ad
$450
8-12 Personal Photos
Personal message, up to 80 words
1/2 Page Ad
$250
4-6 Personal Photos
Personal message, up to 60 words
1/4 Page Ad
$145
2-4 Personal Photos
Personal message, up to 40 words
1/8 Page Ad
$75
1-2 Personal Photos
Personal message, up to 20 words
Ad rates do not include the cost of the yearbook itself, and rates are subject to change.
How to Purchase a Senior Ad:
Sales will open in August for the 2023 Cougar Pride yearbook.
Senior ads can be purchased using a debit or credit card via Balfour.com by entering Cypress Creek High School into the school search bar. (Be careful – there are two Cy Creeks in the U.S.! Click the Houston, TX one, not the Florida one!) Full payment is due at the time of ordering when paying via card online. You can then upload your photos and personal message using your Balfour account.
We can also accept exact cash or checks written to Cy Creek Yearbook. When paying with cash or check, we can also offer the option of a payment plan. For a $30 deposit, you can sign a payment plan agreement. This allows you to continue to make cash or check payments in any amount you'd like, as often as you'd like, until the deadline in early spring!
How to Send in Ad Content:
All ad content can be uploaded using your Balfour account, but we can also accept .jpg photos and typed messages sent to us via email. We do not need/accept physical photos! Keep your printed copies safe at home.
Ad Design:
Our yearbook staff will design all senior ads using the content provided by parents and our professional graphic design tools to match the theme and style of this year's yearbook while highlighting each student's personality. All ads are sent to parents prior to publication to allow parents an opportunity to approve the design or request changes.
I still have questions…
No problem! We would love to chat about senior ads or anything else. Email [email protected] with your questions! If you haven't yet ordered your yearbook, go here!