Teachers vote on new bell schedule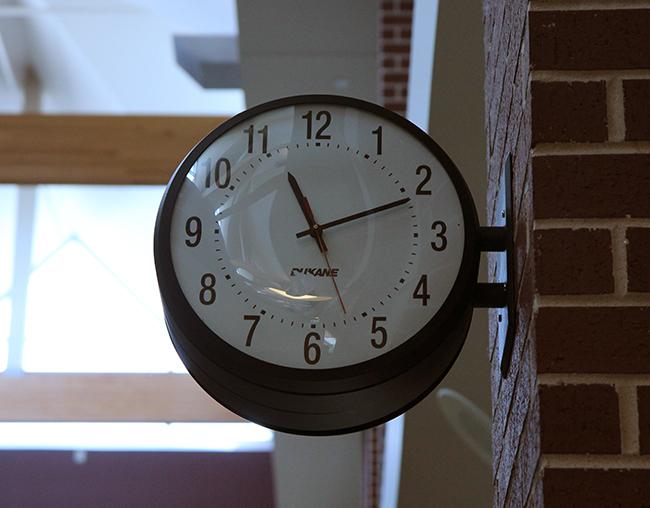 Prompted by the state law changing the required length of the school year and the loss of the early release waiver, the teachers voted Thursday, April 7, on the new bell schedule for the 2016-2017 school year. In a close vote of 21-15, teachers decided in breakout groups to move forward with block scheduling.
Teachers split into groups of mixed contents to discuss and vote on different options for the bell schedule. Principal Vicki Snokhous said she saw teacher involvement in the decision as very important.
"The majority wins, because this is something the teachers have to implement and do every day," Snokhous said. "They have to buy into it and want it, or it's not going to work if they don't see the benefit of it for kids."
A schedule with seven periods per day and a block schedule with an additional enrichment period – for studying or extra work on EOC – remained the top options for voting. Snokhous and other administrators visited Klein High School and Katy Taylor High School, both with the enrichment program, to witness the challenges and benefits of that type of schedule.
"I could argue either side. We see [enrichment schedule] as really being a great thing for students, which is why we're here," Snokhous said. "We want students to benefit as far as them getting extra help."
English teacher Makeeta Peters-Chapman said she supports block scheduling for the time it gives for students and teachers to work in class.
"I do love block scheduling," Peters-Chapman said. "I like that we have time to implement activities, to go over the content, to take our time when teaching. [Students] have more time to work on the assignment, to pose questions, and to get their own explanations."
Junior Chantal Thantrong said she supports the block schedule for the added benefit of students completing classwork and participating in extracurriculars.
"In a study period, students are encouraged to keep up with their school work and broaden their horizons and get involved with other activities," Thantrong said.
Now with a decision on a schedule, the school will proceed with informing parents and students about the plan for next year. Snokhous ensures students that teachers made their decision based on which option benefits the students the most.
"We are taking into [consideration] what we think is best for them academically," Snokhous said. "Not what's easiest for adults, but best for students; how their academics can be helped and enriched and made better."